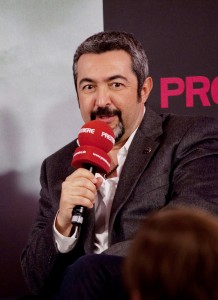 Former 24 director and executive producer Jon Cassar was interviewed by CraveOnline about working on 24, his interesting thoughts on the 24 movie (which he is not involved in), and his new upcoming series Terra Nova. Here's the 24 stuff:
CraveOnline: After eight years of 24, were you just like, "You know, I need a challenge?"
Jon Cassar: Yeah, so I went and did The Kennedys. Then after The Kennedys I said I needed a challenge and I went and did Terra Nova. Look, it's fun as a director to do all sorts of things. This was going to be a challenge and I knew that, and look, my wife keeps telling, "Can't you just take something easy for a change? Can't you just take a nice little family drama that takes place in the living room?" and I just keep somehow saying no to those. So, yes, I did pick it as a challenge.

CraveOnline: I really thought that Jack was going to go home to his family in hour three of that last year.
Jon Cassar: Just didn't happen.

CraveOnline: Was it a big shock when the Billy Ray script didn't move forward for the 24 movie?
Jon Cassar: Not completely for me just because, remember, we did eight years of 24 and twenty four episodes a year. We mined a lot of story, and the other thing is, quite honestly, I think it's difficult. The reality is that it's difficult to do that story because everyone is caught up to 24. I mean, 24 was an influence as far as I think on movies. I think it influenced stuff like The Bourne Identity. It influenced a movie like Salt. You could've gone to any of those movies and made that character Jack Bauer and you had your 24 movie. So, I think we sort of fell behind a little, I guess, if you want to think about it that way because all those stories were done. I think that's part of it, to try to find something new that isn't going to be a Bourne Identity, isn't going to be a Salt, not going to be one of those other movies. It's tough. Even Taken was very much like 24. He was chasing his daughter. So, we mined all that material all ready. So, find a new thing. Not easy.

CraveOnline: It does seem like 24 invented daughters getting kidnapped.
Jon Cassar: That's very true, actually. We were very good at it.

CraveOnline: Three times in season one I think.
Jon Cassar: Well, yeah. She was kidnapped for one very long time in season one and then it happened in two, I think, and then in three, maybe, too. I don't remember. But yeah, you want your hero personally involved. That was always based on that.

CraveOnline: That was part of the fun, too, her getting saved midseason and then wondering what would happen next, right?
Jon Cassar: Yeah, but I think it was brilliant on the writer's part in that first year. I remember watching that show, and look, everyone was doing special agencies and I did La Femme Nikita with Joel Surnow. We did it years ago, and so everyone was always doing that, but the twist that they put in it was the fact that his daughter was stuck in L.A., downtown at night. That changed everything because I can't identify with Jack Bauer running around getting terrorists, but I can identify with my son or daughter being lost in downtown L.A. So, that made it all different, and I think that they knew that right away which is why they did it as much as they did. That's why movies do it, too. You want that personal connection.