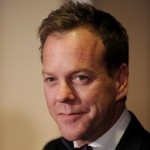 Here's a radio interview in which Kiefer Sutherland talks about the 24 movie. Both he and former 24 showrunner Howard Gordon have been "very involved" in shepherding the project, which was written by Billy Ray.
"We're gonna hopefully start production in April on the film, and that'll be out later on in the year. We're still a few months away, but we've got a script that we're very excited about and we're moving forward."
When the interviewer asks Kiefer why the delay, Kiefer blamed his upcoming Fox television series Touch. "It's something that kind of took up a lot of space for us to do, and that is as responsible as anything for us having to push the movie back about seven months," said Kiefer.
(Thanks Rob for sending this in!)