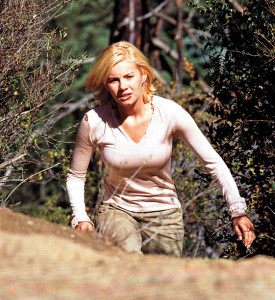 Entertainment Weekly just did a list of the "20 Most Annoying TV Characters Ever" and unsurprisingly, Kim Bauer made the list in second place.
Kim Bauer, 24 (2001–10)

They called her "Cougar Trap." The hapless teenage daughter of terrorist fighter Jack Bauer on 24, Kim Bauer (Elisha Cuthbert) had a never-ending series of misadventures that kept distracting our hero from saving Los Angeles. Most infamously, a season 2 nature trek resulted in Kim getting caught in, yes, a cougar trap, then nearly eaten by the very animal the trap was meant to catch. Apparently the cougar was smarter than she was. —James Hibberd
Check out the full list at Entertainment Weekly's website.