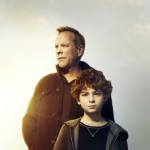 FOX has officially picked up Kiefer Sutherland's new series Touch for a second season. It's currently unknown whether it will air during mid-season again or be given a full 22 episode season order. I assume we'll find out more details in the next few days at FOX's upfront presentation.
The series has been renewed despite mediocre ratings. After having a successful premiere with 12.01 million viewers, ratings continued to drop every week down to a series low 6.43 million by the seventh episode.
Congratulations to Kiefer Sutherland, Marci Michelle, Nicole Burke, and all of the other former 24 crew who work on Touch. Former 24 director Jon Cassar's episode airs tomorrow night on FOX.