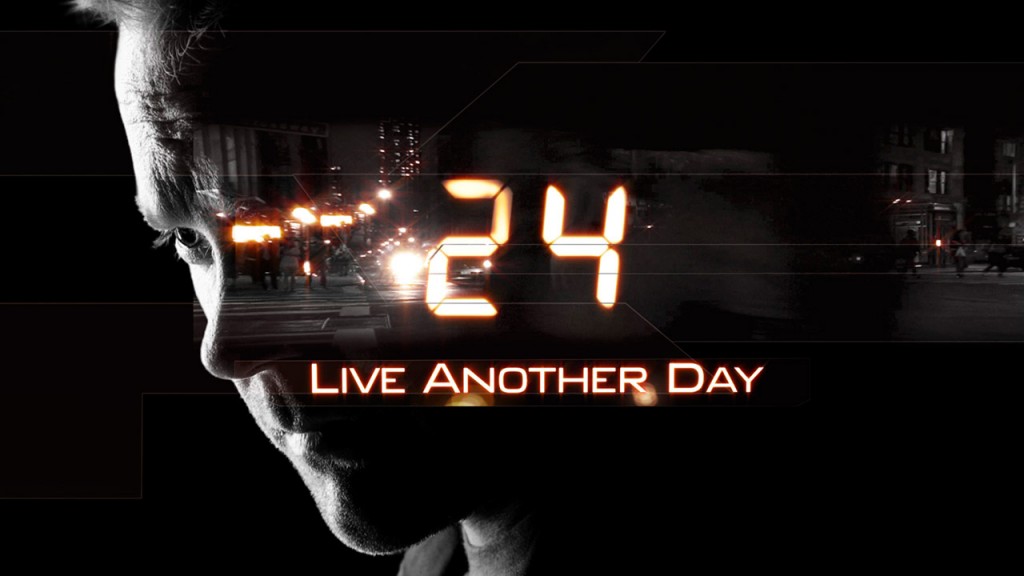 SPRINT AND THE CHRYSLER BRAND POWER HOTLY ANTICIPATED RETURN OF "24" FRANCHISE AS OFFICIAL SPONSORS OF "24: LIVE ANOTHER DAY"

Clock on Pulse-Pounding Event Series 24: LIVE ANOTHER DAY Restarts Monday, May 5, on FOX

Fox Broadcasting Company (FOX) announced today that Sprint and the Chrysler brand will serve as official sponsors of this season's most anticipated event series, 24: LIVE ANOTHER DAY. The iconic pulse-pounding clock resets when 24: LIVE ANOTHER DAY premieres with a special two-hour television event Monday, May 5 (8:00-10:00 PM ET/PT), and makes its time period premiere the following week on Monday, May 12 (9:00-10:00 PM ET/PT), on FOX.

Longtime sponsor and frequent collaborator Sprint returns to the 24 franchise, this time for an extensive multiplatform sponsorship of 24: LIVE ANOTHER DAY that will include in-show integrations with media exclusivity; season-long placement of Sprint phones; and a customized digital content experience surrounding "Connect and Complete" where fans can connect to complete missions on FOX.com to unlock exciting 24-related content. Social media activations, co-branding marketing and co-sponsorship of the 24: LIVE ANOTHER DAY World Premiere and Screening Event in New York City will round-out the partnership. Over the years, Sprint's commitment to 24 has touched five seasons and the "24: Redemption" prequel, and has included such industry firsts as sponsorship of the first-ever mobisodes.

24: LIVE ANOTHER DAY has an auto partner in the Chrysler brand, whose collaboration will include an in-show integration; media exclusivity in key episodes; season-long placement of the all-new 2015 Chrysler 200; as well as customized digital content and experiences; social media activations; co-branded marketing; and co-sponsorship of the 24: LIVE ANOTHER DAY World Premiere and Screening Event.

"The excitement of this event series being shot in London has raised the bar for collaborative partnerships with both the Chrysler brand and Sprint," said Jean Rossi, Executive Vice President of Fox Broadcasting Company Sales and President of FOX One Integrated Sales & Marketing. "The time and commitment working with our partners to create unique, never-been-done-before initiatives will prove to be nothing short of amazing when Jack comes back in May!"

"Sprint has become a fixture of 24, and this season promises to bring more thrilling opportunities for our products to play a central role in the action," said Steve Gaffney, Vice President of Marketing-Sprint. "We've been anticipating Jack Bauer's return to action, and we're eager to see how Sprint will help him 'live another day.'"

"We couldn't resist being a part of the 24 experience," said Al Gardner, President and CEO – Chrysler Brand, Chrysler Group LLC. "As consumers eagerly anticipate the arrival of the all-new 2015 Chrysler 200, which includes state of the art technology, engineering, design and safety features, timing couldn't have been more perfect to team up with FOX on the return of one of television's hottest shows."

Set and shot in London, the suspenseful event series once again will follow the exploits of heroic agent Jack Bauer (Kiefer Sutherland), as he attempts to thwart an unthinkable terrorist attack that could change the world forever. Retaining the real-time, nail-biting, fast-paced format with split screens and interweaving storylines, the highly-anticipated series also stars Mary Lynn Rajskub, Kim Raver and William Devane reprising their original roles. Newcomers to the series include Yvonne Strahovski, Benjamin Bratt, Tate Donovan, Giles Matthey, Gbenga Akinnagbe and Michael Wincott.

24: LIVE ANOTHER DAY is a production of Teakwood Lane Productions in association with 20th Century Fox Television and Imagine Television. Howard Gordon, Evan Katz, Manny Coto, David Fury, Robert Cochran, Brian Grazer, Jon Cassar and Kiefer Sutherland are executive producers. The original series, which had its last American broadcast on May 24, 2010, was created by Joel Surnow and Cochran. "Like" 24: LIVE ANOTHER DAY on Facebook at facebook.com/24. Follow the series on Twitter @24FOX and join the discussion using #24fox.

About Sprint
Sprint (NYSE: S) offers a comprehensive range of wireless and wireline communications services bringing the freedom of mobility to consumers, businesses and government users. Sprint served more than 55 million customers at the end of 2013 and is widely recognized for developing, engineering and deploying innovative technologies, including the first wireless 4G service from a national carrier in the United States; leading prepaid brands including Virgin Mobile USA, Boost Mobile, and Assurance Wireless; instant national and international push-to-talk capabilities; and a global Tier 1 Internet backbone. The American Customer Satisfaction Index rated Sprint as the most improved company in customer satisfaction, across all 47 industries, during the last five years. Sprint has been named to the Dow Jones Sustainability Index (DJSI) North America in 2011, 2012 and 2013. You can learn more and visit Sprint at www.sprint.com or www.facebook.com/sprint and www.twitter.com/sprint.

About Chrysler Brand
The Chrysler brand has delighted customers with distinctive designs, craftsmanship, intuitive innovation and technology all at an extraordinary value since the company was founded in 1926.

Whether it is the groundbreaking, bold design of the Chrysler 300, the simple elegance and extraordinary driving experience of the all-new 2015 Chrysler 200, or the family room on wheels functionality of the Chrysler Town & Country, Chrysler brand vehicles reward the passion, creativity and sense of accomplishment of its owners. Beyond just exceptionally designed vehicles, the Chrysler brand has incorporated thoughtful features into all of its products, such as the innovative center console with pass through storage and sliding cup holders in the 2015 Chrysler 200, the industry-exclusive Stow 'n Go(R) seating and storage system on the Chrysler Town & Country, and the fuel-saving Fuel Saver Technology in the Chrysler 300.

The Chrysler brand's succession of innovative product introductions continues to solidify the brand's standing as the leader in design, engineering and value. The premium for the Chrysler brand is in the product, not the price.
Variety has another writeup about this.