New York Times bestselling author David Mack is writing the next 24 tie-in novel titled 24: Rogue, releasing in 2015. Check out his announcement and the official synopsis below.
As of today, I have the go-ahead to announce that the novel I spent the summer writing was, in fact, a 24 tie-in for Tor/Forge.

Currently titled 24: ROGUE, it is an all-new Jack Bauer adventure. It will feature everything fans of the series have come to expect: gunfights, close-quarters combat, explosions, car chases, some familiar faces from the past, some in-jokes, and, of course, the 24-hour ticking clock.

Until the manuscript receives final approval, I need to be circumspect with regard to the story's details. Also, before the image above goes viral, that's just a mock cover I made to inspire myself while I was writing the book — IT IS NOT THE BOOK'S ACTUAL COVER.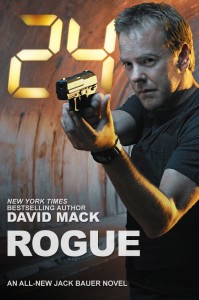 Here's the official synopsis below. Looks like it ties in with 24: Live Another Day somewhat, by bringing back Karl Rask.
The time is 8:00 PM.

Jack Bauer is a man without a country, a fugitive hunted by the most powerful nations in the world. He lives on the run, survives by his wits, and finds purpose in his exile by waging a one-man war against those who profit from the death and suffering of others.

On a self-imposed crusade to destroy the criminal empire of international arms dealer Karl Rask, Jack has infiltrated the crew of one of Rask's freighters. But his mission is disrupted when the ship is hijacked by a band of suspiciously well-informed pirates off the coast of Somalia.

As Jack fights to free the ship, he discovers a deadly secret hidden in its hold: a prize the pirates were hired to steal, and that could be used to ignite a world war — unless Jack captures it first.

AN ALL-NEW 24 ADVENTURE BY NEW YORK TIMES BESTSELLING AUTHOR DAVID MACK