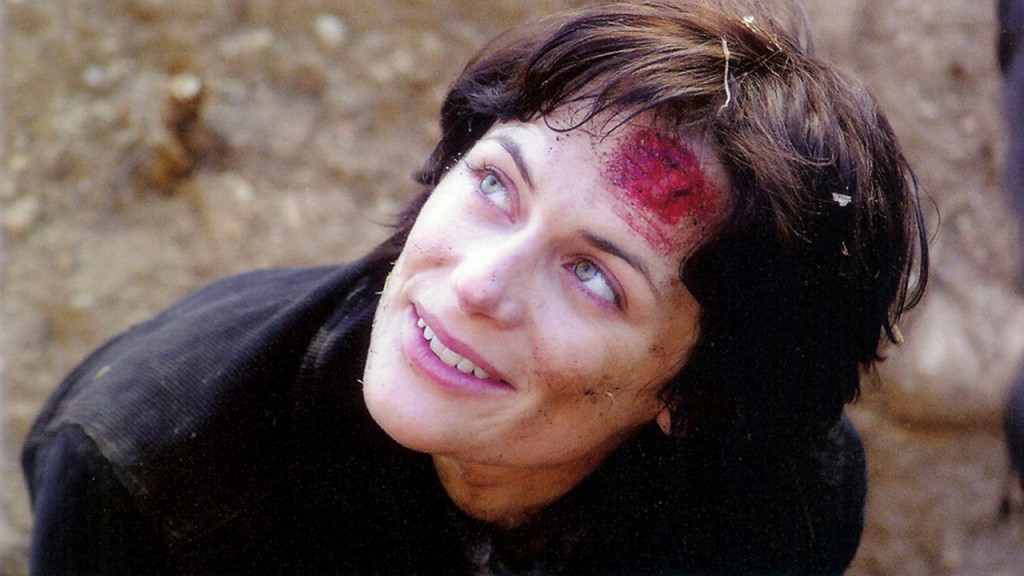 Apart from the money, what was it that attracted you to the role of Nina in 24?
[laughs] Apart from the money? Well, I would say that the part of Nina wasn't fully developed when I went for the auditions. It was never clear, at the start, whether her role was going to last for the entire series.

I was happy to be playing the role of a strong woman who had an important role in a male dominated environment. To explore the world of the CIA, that was exiting to me.

Why do you think the first season was so popular? Do you think that the ongoing fear of terrorist action against the Western World has led people to become interested in what official channels are in place to deal with such threats?
Yes, I think the fact that this shows that there are people working so hard behind the scenes may well be comforting. When 24 was launched there were a couple of other similar shows that looked at CTU-type organisations. The other CIA shows didn't really last because I think that it was daunting to think of how much information was available to anyone who wanted to commit a terrorist act. The fact that 24 was conducted in real time, I think, also captured the viewers imagination.

In the first series, at what point did you realise you were the CTU mole? And how did you feel about that?
I found out six episodes before the end. So of course I was completely shocked by this revelation. Because until that point I was convinced I was one of the good guys.

I'd been such a trusted confident of Jack's and I'd played it that way and then I realised how brilliant that was of the writers. Because that was exactly what they wanted. They set me up to be the ultimate double agent.

I think it worked really well as there was no way the audience could tell from my performance that I was the mole, because I wasn't playing the character with that in the back of my head.

When they did eventually tell me I was thrilled, because it gave me a secret to play and I think that is a wonderful tool as an actor to have something that the audience are not aware of and is something that is slowly revealed – to have a slow understanding of what is happening.

As far as you were concerned was that the end of your character?
Yes, but when I hear that Nina would be coming back I was very curious to see what they were going to do with the character after I was jailed [laughs]. I waited to hear what the premise was going to be and then I was told that I was being pulled out of jail to help Jack.

The ongoing narrative then looks at how well the two of us work together, and when you consider what I did to his family, you know it is not going to be an easy ride.

The other great thing is I got to wear what I wanted in the second season. I actually went out and picked my costume…

Not the prison gear I assume…
[laughs] No… not that costume. I managed to chose my own civilian clothes which was great because I could chose something I would normally wear.

You're married to Xander, who you met while filming the pilot for 24. Was it love at first sight? What first attracted you to him?
[Laughs] I thought he was a great, funny, genuine guy. I thought that I really had met someone different. As I got to know him he'd talk about movies he's been in and I'd say "Oh, I saw that. I didn't realise you were in it." [Laughs]

Last summer you made two movies with Xander. Do you prefer working together?
I love working with him. He's so inspirational, a joy to watch and very helpful as well. The first movie we did was Below the Belt which was shot in Denver. The movie is based on an off-Broadway play. I had a very small part, but I was just there to hang out in Denver really [laughs] 'cos I was exhausted from the first season of 24. They had me on set for a couple of days as the face and voice of the corporation that the movie revolves around. I was an info-mmercial that lured people to come and work for the corporation. It was very sci-fi. I was sort of a deranged stewardess.

The second project we got to do together was a movie called The Third Date with one of my best friends, Amy Barrett. She wrote and directed this short film set in Coney Island. So we got to go to Coney Island for a week. I play a Russian immigrant and the movie is the crazy story of a third date. The Third Date is currently doing the rounds at the film festivals. Below the Belt is still in post production at the moment. Because the world of the story is so fantastical – it is set in a nondescript third world country that has been poisoned by this multinational company – a lot of the exterior shots are in the process of going through CGI treatment at the moment.

Xander's character in 24 has only one day left to live. If you were told tomorrow that you only had one day left to live how would you spend your last day on Earth?
Wow, excellent question. One day left… Hmm, I would try and see as much of the World as possible. I would start on a boat because I feel that the water and the coastline would be something you could just take in immediately. Then, maybe I'd get on a train [laughs] and see the countryside. I would just try to have as many visceral and sensory experiences as possible because this would be the last day in this body.