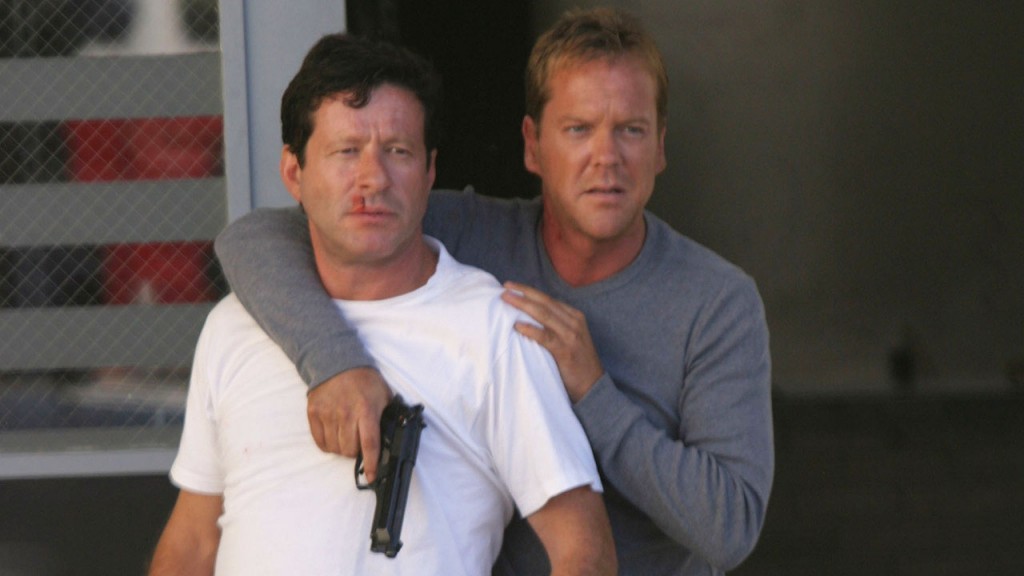 JACK STARTS A PRISON RIOT, CTU CLOSES IN ON KYLE SINGER, PRESIDENT PALMER BEGINS THE DEBATE ON AN ALL-NEW '24' TUESDAY, NOV. 25, ON FOX

In order to stop the release of the deadly virus, Jack starts a riot to break Ramon Salazar out of prison. Meanwhile, CTU is closer to finding Kyle Singer; and President Palmer and Senator Keeler begin their debate on the episode "Day 3: 5:00-6:00 PM" Tuesday, Nov. 25 (9:00-10:00 PM ET/PT) on FOX. (TWF-305) (TV-14; V)

Cast: Kiefer Sutherland as Jack Bauer, Dennis Haysbert as President David Palmer, Elisha Cuthbert as Kimberly Bauer, Reiko Aylesworth as Michelle Dessler, Carlos Bernard as Tony Almeida, James Badge Dale as Chase Edmunds.

Guest Cast: DB Woodside as Wayne Palmer, Vincent Laresca as Hector Salazar, Mary Lynn Rajskub as Chloe, Joaquim de Almeida as Ramon Salazar, Wendy Crewson as Dr. Anne Packard, Riley Smith as Kyle Singer, Agnes Bruckner as Linda, David Labiosa as Gomez, Vanessa Ferlito as Claudia, Jesse Borrego as Gael, Kevin Chapman as Warden Mitchell, Geoff Pierson as Senator John Keeler, Mark Thompson as moderator.