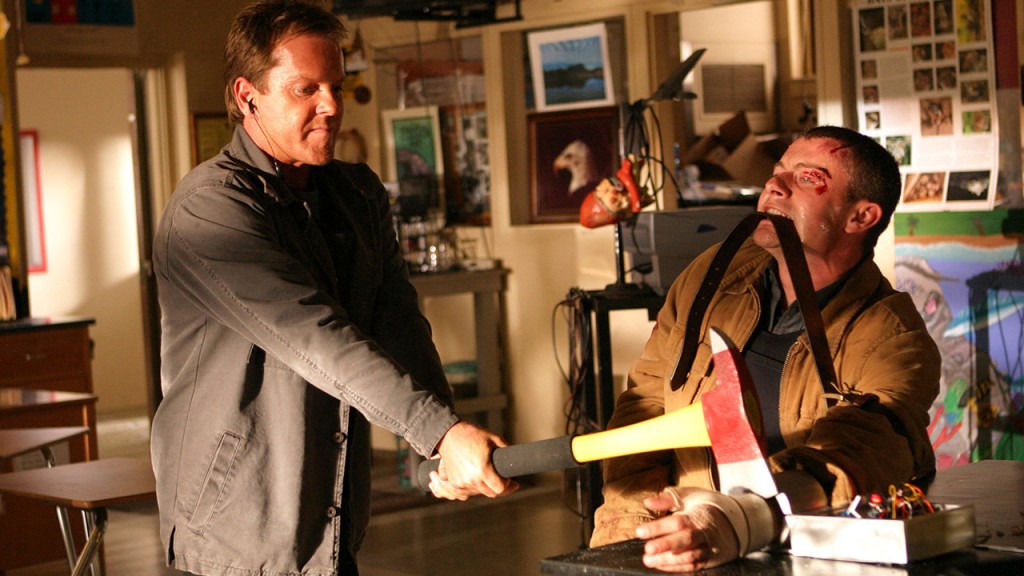 JACK FACES HORRIBLE DILEMMA AFTER FINDING LAST VIAL OF VIRUS, TONY COULD FACE THE DEATH PENALTY IN SEASON FINALE OF "24" MAY 25 ON FOX

Jack is faced with a horrible dilemma after he and Chase find the last vial containing the virus. Meanwhile, Tony could face the death penalty for putting Michelle's life before his duty to maintain national security in the season finale episode "Day 3: 12:00 PM–1:00 PM" Tuesday, May 25 (9:00-10:00 PM ET/PT) on FOX. (TWF-324) (TV-14; V)

Cast: Kiefer Sutherland as Jack Bauer, Dennis Haysbert as President David Palmer, Elisha Cuthbert as Kimberly Bauer, Reiko Aylesworth as Michelle Dessler, Carlos Bernard as Tony Almeida, James Badge Dale as Chase Edmunds.

Guest Cast: DB Woodside as Wayne Palmer, Mary Lynn Rajskub as Chloe, Paul Blackthorne as Stephen Saunders, Zachary Quinto as Adam Kaufman, Kamala Lopez-Dawson as Theresa Ortega, Randle Mell as Brad Hammond, Salvatore Xuereb as Arthur Rabens, Michael Cavanaugh as Joseph O'Laughlin, Kevin McCorkle as LAPD Officer, Glenn Morshower as Agent Pierce.