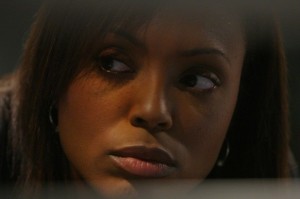 JACK AND HELLER SEEK A TRAITOR AT CTU, PRESIDENT KEELER ADDRESSES THE NATION ON "24" MONDAY, FEBRUARY 7, ON FOX

Jack alerts Secretary Heller that there is a turncoat CTU agent in their midst. Meanwhile, President Keeler addresses the nation, saying the National Guard needs to evacuate six U.S. cities in the episode "Day 4: 2:00 PM-3:00 PM" Monday, Feb. 7 (9:00-10:00 PM ET/PT) on FOX. (TWF-408) (TV-14 V)

Cast: Kiefer Sutherland as Jack Bauer, William Devane as James Heller, Kim Raver as Audrey Raines, Alberta Watson as Erin Driscoll, Lana Parrilla as Sarah Gavin.

Guest Cast: Aisha Tyler as Marianne Taylor, Nestor Serrano as Navi Araz, Shohreh Aghdashloo as Dina Araz, Jonathan Ahdout as Behrooz Araz, Roger Cross as Curtis Manning, Louis Lombardi as Edgar Stiles, Geoff Pierson as John Keeler, Arnold Vosloo as Habib Marwan, Roxanne Day as Jen Slater, David Newsom as Scott Borman, Michael Hyatt as Marcy, Butch Klein as Eric Richards.