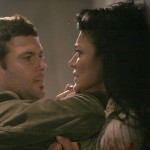 JACK CLOSES IN ON THE TERRORIST WITH NUCLEAR OVERRIDE, TONY INTERROGATES DINA FOR ALL SHE KNOWS ABOUT HER CEL ON "24" MONDAY, FEBRUARY 28, ON FOX

Jack gets the name and location of the terrorist who has the nuclear override. Meanwhile, Tony fiercely interrogates Dina in order to retrieve everything she knows about her terrorist cel in the episode "Day 4: 5:00 PM-6:00 PM" Monday, Feb. 28 (9:00-10:00 PM ET/PT) on FOX. (TWF-411) (TV-14 V)

Cast: Kiefer Sutherland as Jack Bauer, William Devane as James Heller, Kim Raver as Audrey Raines, Alberta Watson as Erin Driscoll, Lana Parrilla as Sarah Gavin.

Guest Cast: Carlos Bernard as Tony Almeida, Shohreh Aghdashloo as Dina Araz, Roger Cross as Curtis Manning, Louis Lombardi as Edgar Stiles, Cameron Bancroft as Lee Castle, James Frain as Paul Raines, Angela Goethals as Maya Driscoll, Arnold Vosloo as Marwan, Richard Marcus as Forbes, Geoff Pierson as President Keeler, Mauricio Mendoza as Dr. Sanford, Dariush Kashani as Ali.