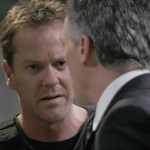 AUDREY'S FEELINGS FOR JACK TURN COLD, AIR FORCE ONE DECLARES AN EMERGENCY ON "24" MONDAY, APRIL 11, ON FOX

With Paul seriously injured after being shot protecting Jack, Audrey's feelings toward Jack turn cold. Meanwhile, Air Force One declares an emergency in the episode "Day 4: 11:00 PM-12:00 AM" Monday, April 11 (9:00-10:00 PM ET/PT) on FOX. (TWF-417) (TV-14 V)

Cast: Kiefer Sutherland as Jack Bauer, William Devane as James Heller, Kim Raver as Audrey Raines, Lana Parrilla as Sarah Gavin.

Guest Cast: Reiko Aylesworth as Michelle Dessler, Carlos Bernard as Tony Almeida, Mary Lynn Rajskub as Chloe, Louis Lombardi as Edgar Stiles, Arnold Vosloo as Marwan, James Morrison as Bill Buchanan, T J Thyne as Jason Girard, Claudette Mink as Kelly Girard, Jude Ciccolella as Mike Novick, Gregory Itzin as Charles Logan, Mesan Richardson as Simmons, Matt Gallini as Mahnesh, John Allen Nelson as Walt Cummings.