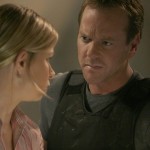 A MAN WHO KILLED ONE OF MARWAN'S MEN IS APPREHENDED, A NUCLEAR WARHEAD IS MISSING ON "24" MONDAY, APRIL 18, ON FOX

When an associate of Marwan's is shot and killed, CTU apprehends the man who pulled the trigger. Meanwhile, the President and CTU learn that a nuclear warhead is missing in the episode "Day 4: 12:00 AM-1:00 AM" Monday, April 18 (9:00-10:00 PM ET/PT) on FOX. (TWF-418) (TV-TBA)

Cast: Kiefer Sutherland as Jack Bauer, Kim Raver as Audrey Raines, Roger Cross as Curtis Manning.

Guest Cast: Reiko Aylesworth as Michelle Dessler, Carlos Bernard as Tony Almeida, Mary Lynn Rajskub as Chloe, Louis Lombardi as Edgar Stiles, Arnold Vosloo as Marwan, James Morrison as Bill Buchanan, Jude Ciccolella as Mike Novick, Gregory Itzin as Charles Logan, John Allen Nelson as Walt Cummings, John Thaddeus as Joe Prado, Nicholas Guilak as Yosik Khatami, Evan Handler as David Weiss, Michael Lugar as pilot.