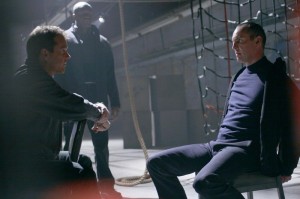 IMMINENT TERRORIST ATTACK THREATENS U.S.A. ON "24" MONDAY, MAY 16, ON FOX

While Agent Bauer, President Palmer and CTU operatives brace for a devastating and imminent attack, terrorist mastermind Habib Marwan further complicates matters in the episode "Day 4: 4:00 AM-5:00 AM" Monday, May 16 (9:00-10:00 PM ET/PT) on FOX. (TWF-422) (TV-TBA)

Cast: Kiefer Sutherland as Jack Bauer, Kim Raver as Audrey Raines, Roger Cross as Curtis Manning.

Guest Cast: Dennis Haysbert as David Palmer; Carlos Bernard as Tony Almeida, Louis Lombardi as Edgar Stiles, Reiko Aylesworth as Michelle Dessler, James Morrison as Bill Buchanan, Mary Lynn Rajskub as Chloe O'Brian, Assaf Cohen as Yassir, Gwendoline Yeo as Melissa Raab, Robert cicchini as Howard Bern, Jude Ciccolella as Mike Novick, Ryun Yu as Jin, Arnold Vosloo as Marwan, Ping Wu as Su Ming, Keith Szarabajka as Robert Morrison, Tzi Ma as Cheng Zhi, Gregory Itzin as Charles Logan, Peter Chin as Lee Jong, Thomas Vincent Kelly as Dr. Benson.