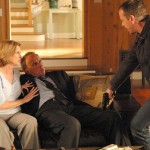 "24′"s CLOCK RACES ON WITH A SPECIAL TWO-HOUR EVENT MONDAY, MARCH 6, ON FOX

The nonstop season of 24 accelerates with a special two-hour event in which Agent Bauer deals with Christopher Henderson, the defected federal agent who recruited Jack to counterterrorist work more than a decade ago along with his wife, Miriam. The back-to-back episodes also feature President Logan muddling through more intense and iffy decisions while CTU commanders Lynn McGill and Bill Buchanan redefine roles in the all-new, two-hour 24 event, "Day 5: 5:00 PM-6:00 PM"/"Day 5: 6:00 PM-7:00 PM," airing Monday, March 6 (8:00-10:00 PM ET/PT) on FOX. (TWF-511/512) (TV-14 V)

Cast: Kiefer Sutherland as Jack Bauer, Carlos Bernard as Tony Almeida, Kim Raver as Audrey Raines, Mary Lynn Rajskub as Chloe O'Brian, Roger Cross as Curtis Manning, Louis Lombardi as Edgar Stiles, James Morrison as Bill Buchanan, Gregory Itzin as President Logan, Jean Smart as First Lady Martha Logan.

Guest Cast: Jude Ciccolella as Mike Novick, Nick Jameson as Yuri Suvarov, Kathleen Gati as Anya Suvarov, Peter Weller as Christopher Henderson, Julian Sands as Vladimir Bierko, Glenn Morshower as Agent Aaron Pierce and Sean Astin as Lynn McGill.