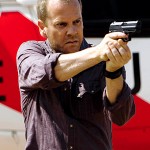 24 came in first place in a list of 2006's best dramas compiled by Entertainment Weekly. It beat out shows like The Shield, Law & Order, Lost, Battlestar Galactica, CSI, The Sopranos. Good job, 24!
2006's best dramas: "24"

The one element long missing from this crackerjack thriller — scenes permitting Kiefer Sutherland to portray something more than mere brutal efficiency — has paid off this season with a succession of surprisingly moving moments, as well as eyebrow-raising deaths (Tony! our big lovable bear Edgar!), great guest stars (Peter Weller deserves a spin-off series from his stint), and an Emmy-worthy performance by Gregory Itzin as the president.
Source: Entertainment Weekly (start of list)