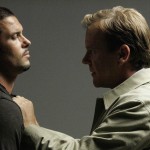 JACK IS BACK- AND SO IS TONY ALMEIDA! THE THREAT FACING THE NATION HAS GLOBAL IMPLICATIONS IN PART 2 OF THE SPECIAL 2-NIGHT, 4-HOUR "24" SEASON PREMIERE EVENT MONDAY, JANUARY 12, ON FOX

Series' Milestone 150th Episode

Since Jack Bauer has been pulled from his senate sub-committee hearing to assist with the deadly domestic threat and the investigation of former colleague Tony Almeida, his new undefined role is to help secure the nation. Meanwhile, President Allison Taylor presides over the escalating time-sensitive dilemmas linked to the unrest in Sangala. Chloe O'Brian and Bill Buchanan are on hand this season as well as FBI Agents Renee Walker, Larry Moss, Janis Gold and Sean Hillinger to cope with the unthinkable events in the "10:00-11:00 AM"/"11:00 AM-12:00 PM" episode of 24 for the second part of the special 2-night, 4-hour premiere event airing Monday, Jan. 12 (8:00-10:00 PM ET/PT) on FOX. (TWF-703/704) (TV-14 V)

Cast: Kiefer Sutherland as Jack Bauer; Mary Lynn Rajskub as Chloe O' Brian; James Morrison as Bill Buchanan; Janeane Garofalo as Janis Gold; Cherry Jones as President Allison Taylor; Carlos Bernard as Tony Almeida; Annie Wersching as Renee Walker; Colm Feore as Henry Taylor; Bob Gunton as Ethan Kanin; Rhys Coiro as Sean Hillinger; Jeffrey Nordling as Larry Moss

Guest Cast: Marina Black as Christina Hillinger; Warren Kole as SS Agent Brian Gedge; Peter Wingfield as Emerson; Steve Cell as Litvak; Issach De Bankole as Ule Matobo; Carly Pope as Samantha Roth; Tonya Pinkins as Alma Motobo; Dameon Clarke as Tanner; Carlo Rota as Morris O'Brien; Jennifer Carta as White House Aide; Mark Aiken as Nichols; Hakeem Kae-Kazim as Dubaku.