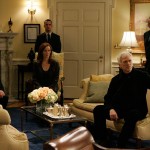 WHEN JACK AND COMPANY PAY A VISIT TO THE WHITE HOUSE, IT'S A FIRST FAMILY AFFAIR AS TIME AND LIVES ARE ON THE LINE ON "24" MONDAY, FEBRUARY 9, ON FOX

As the country reels from the recent terror attacks and faces the mounting global ramifications, the administration refuses to acquiesce and presses on with their disapproval of the Juma regime. As Jack Bauer and team head to the White House for a pivotal meeting with President Taylor, Dubaku raises the stakes when he threatens the First Family in the "Day 7: 3:00 PM-4:00 PM" episode of 24 airing Monday, Feb. 9 (9:00-10:00 PM ET/PT) on FOX. (TWF-708) (TV-14 V)

Cast: Kiefer Sutherland as Jack Bauer; Mary Lynn Rajskub as Chloe O' Brian; James Morrison as Bill Buchanan; Janeane Garofalo as Janis Gold; Cherry Jones as Pres. Allison Taylor; Carlos Bernard as Tony Almeida; Annie Wersching as Renee Walker; Colm Feore as Henry Taylor; Bob Gunton as Ethan Kanin; Rhys Coiro as Sean Hillinger; Jeffrey Nordling as Larry Moss

Guest Cast: Warren Kole as SS Agent Brian Gedge; Peter Wingfield as Emerson; Issach De Bankole as Ule Motobo; Tonya Pinkins as Alama Motobo; Mark Aiken as Nichols; Hakeem Kae-Kazim as Dubaku.