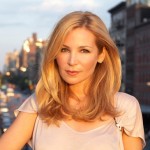 Kristin Dos Santos reports that Jennifer Westfeldt, who is playing ambitious journalist Meredith Reed on the eighth season of 24 probably won't be sticking around for too long as she's set to star in Cusi Cram's off-Broadway play A Lifetime Burning.
Mischa in Culver City, Calif.: 24 scoop. Anything please!
Jennifer Westfeldt appears on 24 this season, which just happens to be filming on the same lot as her man Jon Hamm's show, Mad Men. Jennifer tells us of her 24 role: "I'm a journalist with some ties to the president of the Islamic Republic, who is played by Anil Kapoor, who was in Slumdog Millionaire." She wouldn't tease whether her character was good or bad, but safe to say she's not sticking around too long because she's off to New York to star in an off-Broadway play this week.