Update 3/28/2010: I have been told by a huge Anil Kapoor fan that Anil has NOT returned to Los Angeles. Although this interview/article was first published in a February issue of TV Guide, it was apparently conducted months beforehand – Anil's final episode count likely remains at sixteen. The original post is below.
Back in December, Anil Kapoor said he'd be in sixteen episodes of 24 (after originally only being contracted for ten). Well it looks like the producers really do love him, as he's flying back to Los Angeles to film even more episodes soon.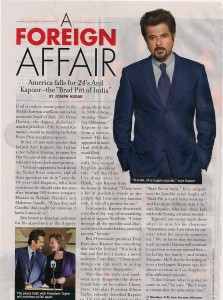 Full Hi-Res image
This news comes shortly after learning that Jennifer Westfeldt (Meredith Reed) would be returning to '24' soon. Hmm, I sense a connection here.