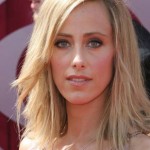 TV Guide's Matt Mitovich says not to expect Audrey in Season 8:
Will Kim Raver return to 24 since ABC didn't pick up her new show? — BrightEyez

MATT: I see where you're going with this. Since Season 8 is set in New York City, you're hoping Jack and Audrey will rendezvous, Sleepless in Seattle-style, atop the Empire State Building. Well, put a pin in that dream for now. For starters, you should be with me in wanting Jack with Renee, not Audrey. Beyond that, ABC's Inside the Box pilot is undergoing retooling/technically still in play, so Raver might not exactly be available. But one Kim you can plan on returning is Jack's daughter — sources tell me Elisha Cuthbert has already filmed scenes for Day 8's first few hours.
Source: TV Guide