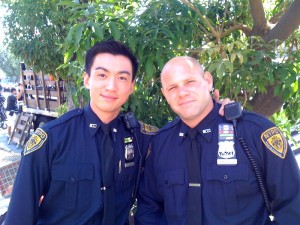 Johnny Wu posted on his blog that he booked a guest star role on 24 Season 8 (his first TV role) and began filming on June 19th:
I booked a great guest star role on FOX's 8th season of "24″ as an NYPD rookie cop. Can't give anymore away right now but the season airs in January 2010. I'll give you guys a specific air date closer to the end of the year. Shout to my new representation team…James Suskin and everyone at TalentWorks for a great beginning. Shooting starts June 19th. Excited to act with Kiefer Sutherland. Y'all remember him from A Time to Kill? If not, check him out. Wasn't such a good guy in that one. Worth the time. First TV credit…Playing New York cop. Reppin NYC hard on this one baby. Holla at me East Coast!
By Friday July 10th he had completed filming his scenes. He shares a few behind the scenes pictures from the set and the following writeup:
Update on my "24″ gig, it's a recurring guest star now…ridiculous. Can't wait to get back on set…very steep learning curve out there yall, hard…definitely hard, but fun as hell. Kiefer Sutherland, very pro, very cool. So I walk into my trailer and read the call sheet thinking "hmm, I wonder who's playing my senior asshole NYPD partner…" The finger scans down the page and BAM it's fuckin Domenick Lombardozzi. Now, if you've talked to me in the last couple of months, you know that I've watched the entire series of "The Wire" pretty much straight through. Domenick played "Herc" on that show and Vince's friend Dom in Entourage. Fuckin awesome.
He also shared pictures of him preparing for the role:
Also, met J.D. Williams "Bodie" and went to the gun range with him and Peter, the night before my first day on set because I didn't wanna play a cop without ever bustin off some shots…yea son!
The photo of the call sheet reveals that Wu will appear in episodes three (6:00PM-7:00PM, written by David Fury & Alex Gansa) and four (7:00PM-8:00PM, written by Chip Johannessen & Patrick Harbinson) of 24 Season 8 – both of which were directed by Milan Cheylov.
Source: Johnny Wu blog