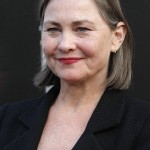 Actress Cherry Jones has been interviewed by New York Times regarding her very first Emmy nomination – "Outstanding Supporting Actress In A Drama Series" for her portrayal of President Allison Taylor in the seventh season of 24.
You've said you never watched "24" before you joined the series. Do you consider yourself a fan of the show now?

Completely I'm such fan! I never, ever thought I would do anything that was violent; I just hated violent things. And when I got the call to come meet ["24" creator] Joel Surnow and the gang out there I thought, 'Well this just isn't going to work.' And then I rented the first season and watched the first couple of episodes and I was riveted. I loved it! And I thought, 'Well it would be hypocritical of me to turn down something I love.'

Of course, some of the violence I just loathe. They made certain choices, certainly last season, that I wish they hadn't made in terms of violence that I thought tipped over into really gratuitous, grotesque violence. At least my president was firmly against torture.
Source: New York Times