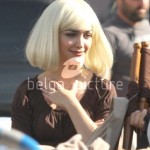 Nazanin Boniadi (General Hospital's Leyla Mir) has been cast on 24 as simply "blonde woman" – she can be seen in the set photos from yesterday wearing a (terrible looking) blonde wig.
It appears as if Michael Gaston (Jericho's Gray Anderson) is playing a character named General David Brucker who first appears in the fourteenth episode (5:00 a.m.-6:00 a.m.).
Actor and stuntman Chris Gann is playing a character named Mathis in the 14th episode. He actually played two characters on 24 before (in addition to doing stunt work for the show), both in the same season. First he was a CTU sniper, then he played Phillip Bauer's henchman in the season 6 finale. No word on if his season 8 character is good or bad.
Jamison Haase seems to be playing a character named "Jim Payne" in the 16th episode (7:00 a.m.-8:00 a.m.).
Assaf Cohen has posted on his website that "he returns to 24 in 2010 as a bad guy" (Cohen had previously played a terrorist in the fourth season of 24).
Actor Larry Sullivan who played a Secret Service agent in season 7, updated his Twitter with the tweet "Fitting for 24 this afternoon…glad to be asked back…excited to work with the lovely and talented Cherry Jones again."
Source: IMDB, assafcohen.com, Twitter