Related Topics · Video, Freddie Prinze Jr, Freddie Prinze Jr video interviews, Jimmy Kimmel Live, Video Interview
Related Posts
By 24 Spoilers , January 13th, 2010 · 57 comments
Freddie Prinze Jr. is interviewed on Live With Regis and Kelly about his character Cole Ortiz in 24 Season 8.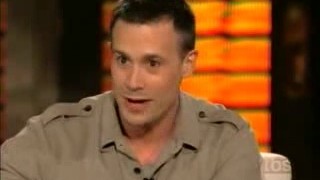 By 24 Spoilers , March 11th, 2010 · 4 comments
Freddie Prinze Jr. (24's Cole Ortiz) was interviewed by George Lopez on TBS's Lopez Tonight. Here's the entire interview segment.
By 24 Spoilers , January 6th, 2010
YouTube Link: Freddie Prinze Jr 24 Season 8 Video Interview