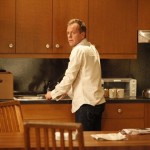 Some interesting teases from 24 showrunner Howard Gordon himself.
"Jack is really pissed off," says "24" executive producer Howard Gordon. "[Renee's death] was something we've thought about all these years, that we'd give Jack something to live for in reconnecting with Renee, and then he loses her.

A dazed Jack (Kiefer Sutherland) plots his next move after Renee's murder — which puts him in conflict with interim CTU chief Chloe, on Monday's episode of "24."

"And that will power us into the last chapter of the story."

With "24" wrapping its eight-season run May 24, Gordon is reticent about giving away too much.

But, he says, Renee's murder will set in motion a chain of events that will impact not only Jack, but everyone around him.

"[Renee's death] takes Jack to a place he's never been to before, and puts him in a position with people who've been his support system like Chloe and President Taylor," he says. "And we'll find that Jack's really in conflict with himself and these people who've been pillars to him for so long.

"It's a really combustible combination which is pretty dark and complex."

Further heightening the interpersonal suspense will be Jack's relationship with loyal Chloe (Mary Lynn Rajskub), who, over the years, has gone from a quirky, antisocial systems analyst to interim head of CTU (in last Monday's episode).

"She's gone from an idiosyncratic 'Arrested Development'-type character to become a woman, a mother and a wife," Gordon says. "Her character has evolved.

"Chloe isn't just a robot — she's a real person, and we'll see her make some very hard decisions and, frankly, grow up," he says. "She loves Jack and . . . whether by default or reflexively, has always sided with Jack.

"Now she finds herself suddenly the one in charge –and she's going to make some choices that aren't in sync with Jack."
I may be in the minority here, but I'll be honest – after Renee's death in episode 17 and the more I hear about these upcoming final episodes, the less excited I get. I'm looking forward to a pissed off rogue Jack Bauer, but it sounds like the writers are going to completely destroy the (few) friendships Jack has left in the process.
They took away his romantic interest, his daughter/family won't be appearing, and I get the feeling they're going to ruin his friendship with Chloe which has been the one constant these past few years. I hope the writers are treading very carefully here, especially if they want to retain an audience for the feature film(s).