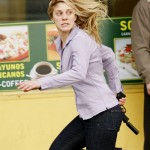 JACK SEEKS JUSTICE AND VENGANCE LIKE NEVER BEFORE AFTER THE SHOCKING DEATH OF AGENT RENEE WALKER ON AN ALL-NEW "24" MONDAY, MAY 3, ON FOX

With only five hours left, the clock races toward the climactic series finale as Jack stops at absolutely nothing to avenge the emotional setback of losing his beloved partner Renee Walker. Meanwhile, the administration attempts to keep the historic and pivotal peace agreement on track as undermining forces surface in the all-new "Day 8: 11:00 AM-12:00 PM" episode of 24 airing Monday, May 3 (9:00-10:00 PM ET/PT) on FOX. (TWF-820) (TV-14 L, V)

Cast: Kiefer Sutherland as Jack Bauer; Mary Lynn Rajskub as Chloe O'Brian; Cherry Jones as Allison Taylor; Mykelti Williamson as Brian Hastings; Chris Diamantopoulos as Rob Weiss; Katee Sackhoff as Dana Walsh; Freddie Prinze Jr. as Cole Ortiz; John Boyd as Arlo Glass

Guest Cast: Gregory Itzin as Charles Logan; Frank John Hughes as Tim Woods; Necar Zadegan as Dalia Hassan; Nazneen Contractor as Kayla Hassan; Joel Bissonnette as Pavel; James Hiroyuki Liao as Devon Rosenthal; Sarah Hollis as Presidential Aide; Reed Diamond as Jason Pillar; D.B. Sweeney as Mark Bledsoe; Navid Negahban as Jamot; Graham McTavish as Mikhail Novakovich
Pavel (the sniper who killed Renee) is listed in the guest cast section – kill that dude, Jack! Michael Madsen is weirdly absent (at least in the press release). Also make sure to check out these set pictures from episode 19/20 to see a Jack Bauer/Dana faceoff that happens in these episodes.