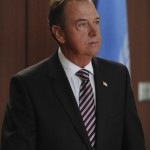 Here's the synopsis for the final episodes of the season as part of a larger FOX press release detailing their May schedule.
24 (9:00-10:00 PM ET/PT) – "11:00 AM-12:00 PM"
In its eighth and final season, the clock on the Emmy Award-winning series ticks toward its final five hours as Jack Bauer (Kiefer Sutherland) sets out to avenge the unthinkable events of this tragic day.

24 (9:00-10:00 PM ET/PT) – "12:00 PM-1:00 PM"
With only four hours left, Jack stops at nothing to determine who is behind the day's most devastating event and uncovers an unexpected lead.

24 (9:00-10:00 PM ET/PT) – "1:00 PM-2:00 PM"
As Jack's final day nears a close, he endures intense international forces at play. Meanwhile, former President Logan (guest star Gregory Itzin) becomes increasingly involved.

24 (8:00-10:00 PM ET/PT) – "2:00 PM-4:00 PM" – Series Finale
It's the end of an era when the groundbreaking and iconic action-packed series comes full circle with the climactic two-hour series finale of "Day Eight." Emotions run high as the harrowing day climaxes with resolute President Taylor (Cherry Jones) closing in on a world-changing objective and Jack forced to take matters into his own hands for one last and unforgettable job. Additionally, Eriq La Salle guest-stars.
They're sort of vague for the most part, but I find it interesting how Jack uncovers an "unexpected lead" in episode 21 and then with episode 22 Logan becomes "increasingly involved" – can you say villain?