Update 12/14: Check out videos, screencaps, and information on Annie Wersching's NCIS role at our sister site, Awesome Annie.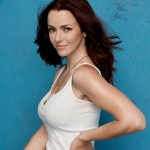 I've been reporting on what ex-24 cast members have been up to in past blog posts and my "Where are they now? 24 cast and crew" roundup and here's an exciting one:
Annie Wersching (24's Renee Walker) will be joining the cast of CBS smash-hit NCIS as Deputy District Attorney Gail Walsh.
Walsh will be requesting the assistance of NCIS in tracking down a missing witness whose life may be in peril. The character is described as "extremely attractive and sexy" while also being intelligent and tough. Seems to me like Walsh shares some character traits with Renee Walker! It's a guest star role with possibility of it becoming recurring.
Annie Wersching gave birth to her first child Freddie Wersching Full in August and just made her television return in CSI's "House of Hoarders" episode last night. We look forward to her future role on NCIS!