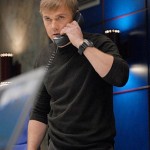 Two of Jack Bauer's field partners on 24, Mike Doyle (played by Rick Schroder, Season 6) and Renee Walker (played by Annie Wersching, Seasons 7-8) are joining the cast of ABC's No Ordinary Family as husband and wife!
Ricky Schroder, who played field agent Mike Doyle during '24's sixth season, will guest-star on the freshman series as a man whose life is saved by Michael Chiklis' super-powered Jim Powell, TV Guide Magazine reports.

Fancast has since learned that Annie Wersching – aka '24's Renee Walker – will appear in the same episode as Schroder's wife.
Annie has recently guest-starred in CSI and will be appearing in an upcoming episode of NCIS this December. The No Ordinary Family episode is scheduled to air in January.