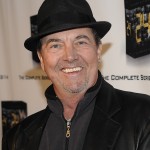 Carlos Bernard

He played: Tony Almeida, Days 1, 2, 3, 4, 5 and 7.
What he's doing now: "I'm producing and starring in a pilot with Deran Sarafian ('House.') It's called 'The Blue Wall' and is the true story of an ex-police officer who was chosen by New York mayor David Dinkins to go after corrupt cops. It's a really interesting story. We'll see what happens. I still get recognized as Tony. People yell out, 'Hey, Tony!' That's good. It means they enjoyed me on '24.'"
Which series he'd watch a marathon of: "'Dexter.' I like that show. It has great acting, great writing and really strong directing. That's one of the few shows that I watch."
Check out the full interview – with responses from Gregory Itzin, Necar Zadegan, Jon Cassar, and Lou Diamond Phillips, over at TV Squad.