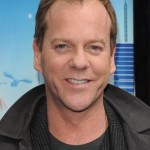 Happy Birthday to Kiefer Sutherland, who was born on December 21, 1966 – he turned 44 years old today!
Kiefer was the man responsible for 24's massive success over the past nine years. The dedication he showed to his work was unmatched – he's easily the hardest working actor in television. Thanks for all the memories Kiefer!
You can see him next in That Championship Season where he will be making his Broadway debut as "James Daley" and the upcoming Lars von Trier film Melancholia.