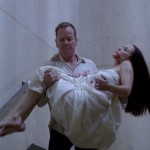 The Los Angeles Times has listed Renee Walker as one of the ten beloved television characters who passed away in 2010 which will be missed. I can definitely agree with this one!
Here's what they say:
Renee (Annie Wersching on "24"). Jack Bauer finally gets to have sex and minutes later his girlfriend is shot by a sniper. Man, it sucks to be Jack.