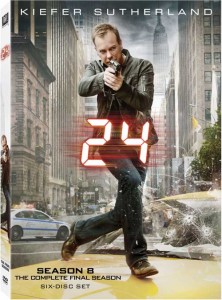 The 24 Season 8 DVD has sold 178,830 copies and grossed $6,716,855 dollars in its first week on sale (December 14-19).
That's quite a large drop from last years 24 Season 7's DVD debut which sold 275,000 copies during its first week on store shelves and became the second highest-grossing TV DVD of 2009 (behind HBO's True Blood) after eleven weeks on sale.
Reviewers have criticized the 24 Season 8 DVD for its dissapointing lack of extras – zero audio commentaries, no bloopers, and just two special features. The "Chloe's Arrest" epilogue was also excluded from the US standalone DVD set despite being available on the DVD in every other regions release.
Here's how sales stack up compared to the last few seasons:
24 Season 5: 460,000 first week, total to date 1.4 million
24 Season 6: 285,000 first week, total to date 1.3 million
24 Season 7: 275,000 first week, total to date 800,000
24 Season 8: 180,000 first week
Data provided to 24spoilers courtesy of Nash Information Services, LLC (www.the-numbers.com)
You can buy the 24 Season 8 on DVD on Amazon – it's also available on on Blu-Ray.