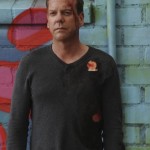 The 24 series finale came in at number six on TV Guide's "Best episodes of 2010" list, beating out the Lost series finale (which came in eighth place) among others. Here's what they had to say:
6. "Day 8: 3:00 p.m.-4:00 p.m.," 24

24's final hour ended on a complicated note — President Taylor realized the grave error of her ways, while Charles Logan went down for good. But it was Jack, hurt, spent and forced to go on the run, whose predicament was both familiar and bittersweet for those fans wanting closure. His tearful goodbye with Chloe — appropriately via video screen — broke our hearts.