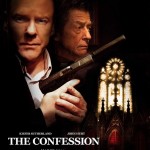 The official trailer for Kiefer Sutherland's upcoming internet series The Confession will premiere tomorrow on Extra at 7 PM in New York and Los Angeles. Others can check here to see when Extra airs in your time zone.
An official poster was also released (click the thumbnail on the right to view it full-size). The Confession premieres in March on Hulu.com and will be available worldwide at a later date.
You can win a chance to attend a screening with Kiefer Sutherland by following writer and director of The Confession, Brad Mirman on Twitter.