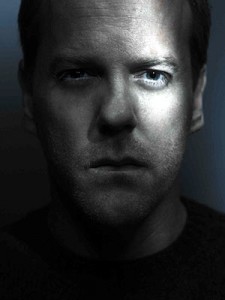 Deadline has updated their earlier story, clarifying some of the budget issues surrounding the 24 movie.
The 24 movie postponement broken by Deadline this morning is getting interesting. Word is racing around agency circles that Kiefer Sutherland was not only unhappy about the pic's postponement, but also what I'd heard was a $1 million offer to play Jack Bauer in a deal that was heavily backloaded to reward success. Insiders said that Sutherland would have gotten at least $2 million, though that was below his original $5 million and then $3 million ask. Fox wanted a budget around $30 million, while the filmmakers wanted $45 million to $60 million.

Fox's idea was always to make the film at a cost, and reward in the upside. The studio's proposal, made a couple weeks ago, wasn't addressed until this week, and when the crap hit the fan yesterday, the studio felt there wasn't enough time to pull the picture off in seven weeks of prep. The studio was following its experience with X-Files, a TV property turned into a hit film, but made at a cautious budget.

I'm told that Fuqua hadn't yet been approved by Sutherland, but that Sutherland, Imagine and Fuqua stood to reap up to about 25% of the proceeds after breakeven, to make up for the low upfront payments. Fuqua would have gotten north of $1 million, but not as much as Sutherland. Reached out for comment to Sutherland and Imagine this morning, but no one returned yet.
Meanwhile, The Wrap has gotten a comment from FOX spokesman Chris Petrikin, who claims it all came down to not having enough time to do things right.
"We're still working on a script, and hope to make [it] when Kiefer next has time," he said, "but this all came down to timing, and seven weeks is not enough time to prep a movie like this. It really did all come down to timing."
The Wrap reports that all of the talent attached is "furious" and that Kiefer was "insulted" at the lowball budget. "The studio didn't seem to be paying attention or be consistent with notes and thoughts," said a source in Kiefer Sutherland's camp. "At the end of day it's not only hard to make movies at Fox specifically, but it's also no fun."
Ouch – those are rather harsh words. Both sides are said to be meeting at 2:30 PM to work out differences, so more information (or public trash-talking) will probably leak out soon.
I'm totally on Kiefer's side with this one. He's made FOX a boatload of money over the past decade with 24 and there is a proven audience that would love to see Jack Bauer on the big-screen. Offering him just one million dollars to produce and star in a physically demanding big budget action movie is downright insulting. With the script already completed, this gives both sides a full year to work out their disagreements and give it another shot. Let's just hope they are more prepared next time and that Antoine Fuqua will still be available when it's time to film.