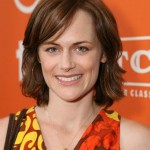 It's a Covert Affairs switcheroo!

24 star Sarah Clarke has replaced Rebecca Creskoff (Hung) as a new mentor for Annie (Piper Perabo) on the USA drama, TVGuide.com has learned exclusively.

As we reported last month, Creskoff was cast to play Lena Smith in Season 3, but she has now dropped out due to a scheduling conflict. Production is currently underway on the season premiere, but Creskoff had not yet shot any scenes.

Clarke will now play Lena, a legendary CIA operative running her own division who will become an important figure in Annie's career. But there may be more to Lena than meets the eye.
Source: TV Guide