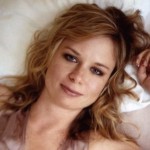 Mary Lynn Rajskub (24's genius Chloe O'Brian) will guest-star in the 23rd episode of Grey's Anatomy season 8 titled "Migration" airing on May 10th.
Erstwhile 24 bacon-saver Mary Lynn Rajskub and Lost alum Patrick Fischler will both guest-star in the penultimate episode of Grey's Anatomy Season 8, TVLine has learned exclusively.

In the episode, airing May 10, Rajskub and Fischler will play a couple in the midst of their third honeymoon when they come to Seattle Grace complaining of mysterious symptoms.

Rajskub, best known of course for her run as 24's Chloe, most recently appeared on CBS' short-lived freshman sitcom How to Be a Gentleman.
Source: TV Line