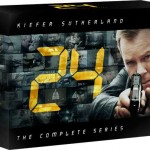 The 24: Complete Series DVD box set is Amazon's Deal of the Day, on sale for just $114.99 which is a whopping 67% savings off MSRP. With Father's Day rapidly approaching, you might want to give the gift of 24.
There are 56 discs with all eight seasons and the 24: Redemption television movie, plus a bonus disc with exclusive special features. You can read our 24 Complete Series DVD box set review more more information on what's included.
Although we mentioned that the set was barebones – lacking any creative packaging or trinkets, and without many extras unique to the box set, the cheap (temporary) sale price of nearly 70% off makes that way less of an issue.You can purchase it here, but act fast – this deal is valid for today only. As Jack Bauer would say, you're running out of time!