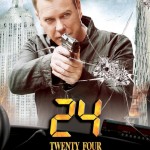 Jack Bauer's Greatest is a new website from FOX which has 24 fans voting on their favorite Jack Bauer line. Every 48 hours, lines from a new season of 24 will be added. There are video clips of each quote too so you get to relive the moment. Once all eight seasons have been voted on, a final Jack Bauer line will be revealed as "the greatest".
My personal favorites from Season 1:
"I have killed two people since midnight. I haven't slept in over 24 hours. So maybe you should be a little more afraid of me than you are now."
"You probably don't think I could force this towel down your throat, but trust me I can. All the way. Except that I'd hold onto this little bit at the end. When your stomach starts to digest the towel, I pull it out. Taking your stomach lining with it. Most people probably take about a week to die. It's very painful."
Start voting and keep checking back at Jack Bauer's Greatest.