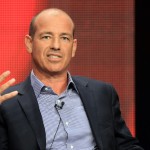 How much are the writers' individual politics a factor in the room? Do things ever get politically heated?
GANSA: I'll let Howard speak to the "24" room, because that was a much more politically charged story environment. There were people who had very different and divergent opinions in that room, and there were a lot of real, real conservative types, and some real, real lefty types. And that led to some really interesting conversations. I'm sort of sad to say it's a much more homogeneous group on "Homeland." But we try really hard to not be polemic or didactic in any way. We choose to ask questions and not answer them.

GORDON: The thing on "24," it was a divergent group of political beliefs, but I don't think that affected the story. Occasionally, maybe. But we all recognized that storytelling is agnostic. Once you start dressing it up as a platform for some kind of ideology or point of view, it becomes propaganda, and I think the audience can smell when it's counterfeit like that.

Claire Danes (Homeland) and Kiefer Sutherland (24)

On "24" a lot of the plot lines were attributed to politics — did that ever make you. . . .
GORDON: Crazy? It was particularly disturbing to me, because the charges were as broad as stoking Islamophobia and being a midwife to a public acceptance of torture. Obviously anyone with any conscience is going to take these seriously. But look, we also recognized too that you can't just hide behind, ''This is just TV show.'' That's a little like the Twinkie defense. So we actively engaged and reconsidered how we told stories.

Some people have suggested that "Homeland" is in a kind of conversation with "24" about those issues.
GANSA: I certainly believe that because "Homeland" dealt with the same issues "24" did, it was conceived in reaction to that show. And we talked about this frankly at the beginning. Jack Bauer is an action hero. And that is not Carrie Mathison. Her intelligence work, her defense of the country, is from the neck up.

GORDON: It's easy to connect the dots, but it's a little apples and oranges. "24" was a show with a very interesting and unique concept but one that was fundamentally kind of absurd. The idea that 24 hours of story can actually happen, with a beginning, middle and end, in 24 hours, is fundamentally a fantasy. [Creating "Homeland"] Alex and I had the benefit, in a way, of being in the world 10 years later, after Guantánamo, after Abu Ghraib, after two wars in various states of winding down, and the consequences of those wars were being understood. Carrie lives in a world where torture is no longer tolerated. And she lives in a world where everything doesn't happen in 24 hours.