IDW Publishing has announced a 24 comic prequel that bridges the gap between 24 Season 8 and Live Another Day. It's set to release in April for $3.99. A 24 Omnibus will also collect all of IDW's previously released 24 comics for $24.99. Check out all the info below:
24 #1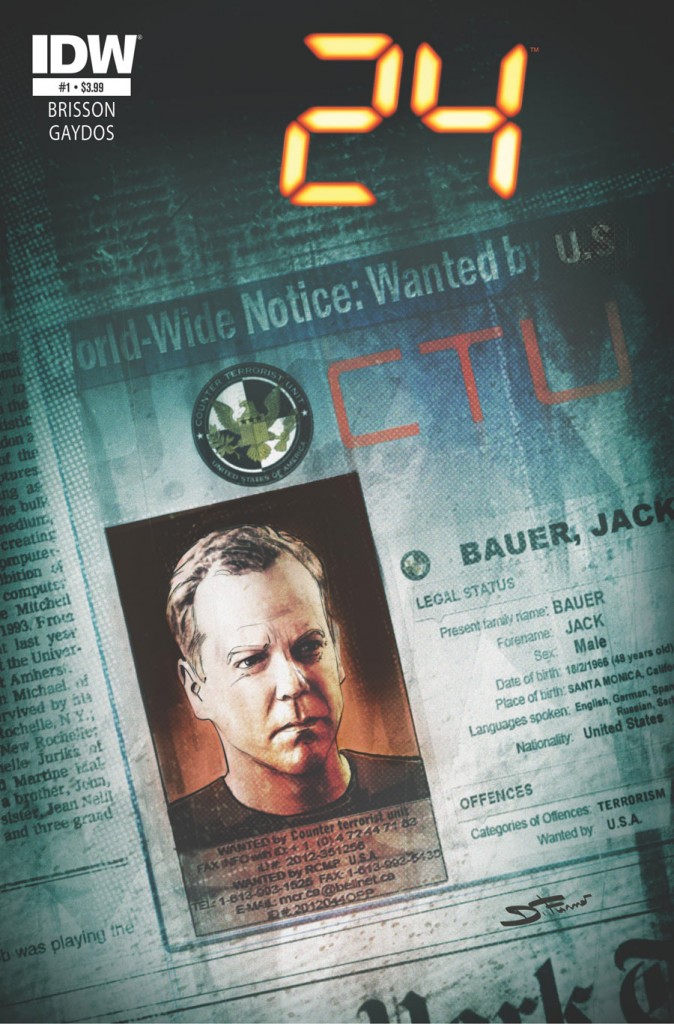 Ed Brisson (w) • Michael Gaydos (a) • Davide Furnò (c)

Jack Bauer lives again! Before the Emmy Award-winning drama returns to your television with LIVE ANOTHER DAY, find out what the heroic agent has been up to in the several years following the events of the final season. Re-starting the clock on the high-octane saga are writing sensation Ed Brisson (Secret Avengers) and Eisner Award nominee Michael Gaydos (Alias).

FC • 32 pages • $3.99

Jack Bauer returns ahead of the debut of the "Live Another Day" TV event!
Ask your retailer about the Paul Shipper variant cover!
Written by Ed Brisson (Comeback, Secret Avengers)!
Series covers by Davide Furnò (Scalped, 30 Days of Night)!

24 #1—Subscription Variant
Ed Brisson (w) • Michael Gaydos (a) • Photo (c)
For subscription customers only…a variant photo cover featuring Jack Bauer!
FC • 32 pages • $3.99
24 Omnibus
J. C. Vaughn, Mark L Haynes, Beau Smith (w) • Renato Guedes, Manny Clark, Steve Bryant, Jean Diaz (a) • Davide Furnò (c)

An action-packed collection of comics based on the acclaimed TV show 24. Follow Jack Bauer's exploits before President Palmer's victory as he tries to eliminate a mass murderer in the former Yugoslavia, struggles with drug cartels and radical separatists, as well as economic and ecological chaos. This volume collects 24: One Shot, 24: Midnight Sun, 24: Stories, 24: Cold Warriors, and the prequel story 24: Nightfall.

TPB • FC • $24.99 • 340 pages • 6" x 9" • ISBN: 978-1-61377-903-3
• 5 great stories in one volume.