Not too long ago the whole idea of bringing back 24 would have seemed like a pipe dream. Fox canceled the once-critically acclaimed series in 2010 for a reason: Though it ran for an impressive eight seasons, ratings dropped steadily and the melancholic finale–which ended with Jack staring grimly at a surveillance camera as a tearful Chloe commanded, "Shut it down"–pulled in a disappointing 10.4 million viewers, below the 10.8 million average for the final year. "I feel like [the finale] was under-appreciated," says exec producer Howard Gordon, a veteran writer on the show who went on to produce the Emmy-winning Homeland for Showtime. "We were quite happy with the way the last season went and the way it ended, but at some level people moved on at that time. It didn't get the [viewership] it deserved"
Talk of making a 24 movie didn't get any traction over the next several years either, even with Sutherland and producers Brian Grazer and the late Tony Scott on board. "I didn't understand why it wouldn't make sense from an economic standpoint," says Sutherland, who gets visibly annoyed at the mere mention of the extended negotiations.
"Obviously someone else had done the counting and thought they didn't need to make it." Then early last year, Fox Networks Group chairman Peter Rice scheduled a casual lunch with Gordon and brought up the prospect of reviving the series for a limited run on Fox. Intrigued, Gordon bounced the idea off Sutherland, who loved it–though he figured it was highly unlikely.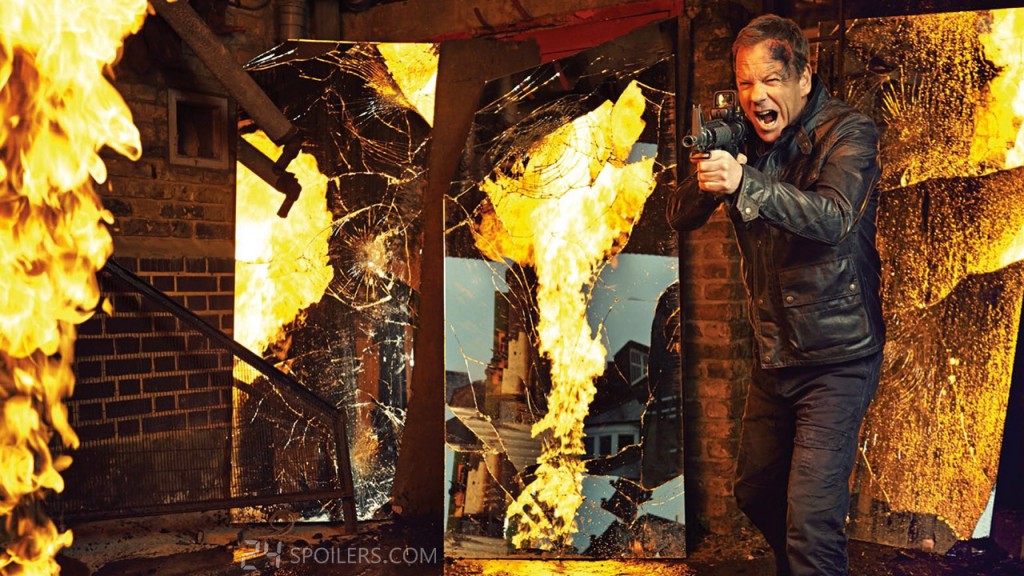 "I thought he would start to write it, then be on some massive deadline for Homeland," says Sutherland, whose 24 follow-up, Touch, ran for two low-rated seasons on Fox. "I really didn't take it that seriously." Longtime 24 scribe and exec producer Manny Coto had a similar reaction: "When Howard called me saying they were bringing back 24, I was on my porch smoking a cigar, thinking about the day's work. My response was 'Great, Howard, good luck with that'-never expecting that it would actually come through." But a lot has changed in TV since the clock last stopped on 24. The rise of Netflix and binge-TV culture has driven the networks to start searching for "event" programming.
A reboot of 24 made perfect sense for Fox, which had already begun developing Wayward Pines from M. Night Shyamalan as a limited series for summer 2014. And Rice's suggestion about condensing 24 into 12 episodes solved one of the major problems that had always plagued the action drama–the burden of keeping a suspense story suspenseful (and vaguely realistic) over 24 hour-long episodes. "There was always that period around 16, 17, and 18 where it was pretty evident that the plot was vamping a bit," says Coto. (See: Teri Bauer's amnesia in season 1, or Kim Bauer's run-in with a cougar in season 2.) "In this scenario there's no vamp." Even though no network had ever attempted to resuscitate a show that had been on the trash heap for years (the closest example was Family Guy, which went dark for two years before Fox brought it back), Fox Entertainment chairman Kevin Reilly gave it "a very long 30 seconds of thought" before delivering his verdict. "There's not a month or maybe even a week that goes by at Fox that someone doesn't bring it up and ask me about [24]," he says.
"I knew there was still a lot of love for it, and then when I knew the band could get back together–this was not with a different cast or different showrunners–I said yes." Final step: Make sure Jack Bauer was ready to go back to work. Sutherland was eating with his sister in Toronto while on break from Pompeii when he got a call from Dana Walden, the chairman and CEO of 20th Century Fox TV, which produces 24. "When she called, I went, 'This is for real,'" recalls the actor.
Though Sutherland says his paycheck isn't near what he got for the last three seasons of the original series, he had other, more important reasons to return to Jack: "This is the [role] that my kids thought was cool. I was cool for a minute to my kids!"