24: Live Another Day made the cover of Entertainment Weekly. It includes the first photo of Michelle Fairley as Margot Al-Harazi and a few tidbits of new information (apparently Chloe and Adrian are dating). We've transcribed the ten page article below. You can buy the issue on newsstands starting Friday April 4th.
---
While taking a dinner break from filming 24: Live Another Day in London recently, star Kiefer Sutherland was about to get a table at a restaurant… when he plowed straight into a full-length mirror that he thought was the dining-room entrance. The impact knocked the 47-year-old actor to the ground, prompting the show's dialect coach to deadpan, "Jack Bauer is an idiot."
It happens more often than you'd think. "When embarrassing stuff happens, the first thing people say is 'Oh, Jack Bauer really isn't that cool,'" Sutherland admits later. "It's like the great burden of playing this character." Looking like a colossal boob isn't his only source of anxiety. Ever since Sutherland agreed last spring to reprise one of TV's all-time best characters, the actor has been consumed by fear–because the only thing scarier than being a klutz in front of fans is blowing a second chance at making TV history.
"After we wrapped our eighth season, we went, "Ooh, we dodged that bullet!" It ended in a profoundly sad way and we were proud of it," says Sutherland. "Having said that, it made the choice to come back very stressful. That sense of responsibility to the show has not dissipated at all. We have a real shot at doing the best season ever…but I'm scared to death until we do that."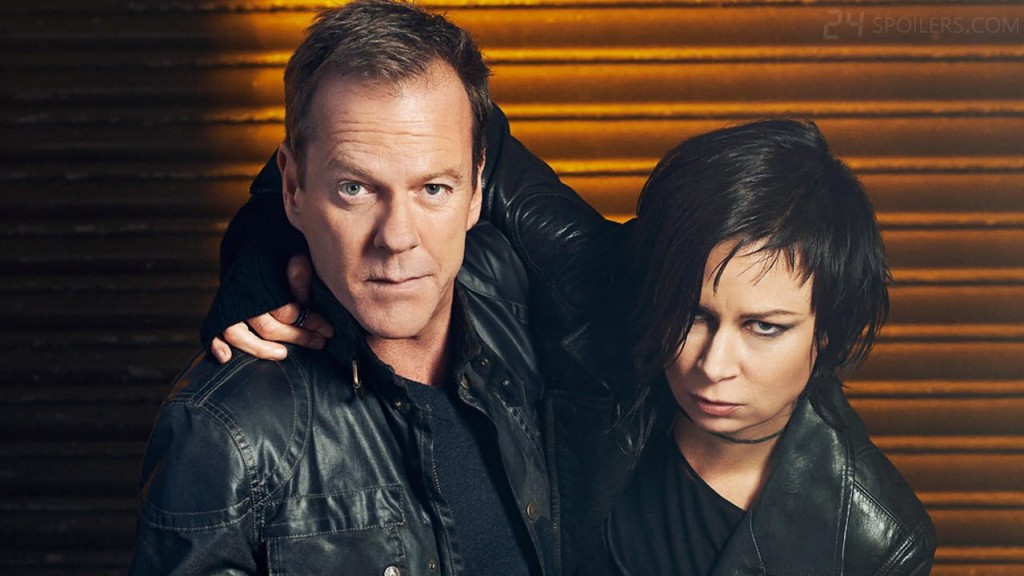 It's day 12 of shooting the first two episodes of Live Another Day in London, and a shirtless Sutherland is sitting in an abandoned factory that's doubling as the CIA's underground office in Europe. Sutherland's bare chest is covered with electrodes that are monitoring his heartbeat for signs of distress–but his cardiovascular highs and lows aren't nearly as interesting to look at as the newly acquired definition to his chest, the result of an exercise regimen he picked up last year while playing Corvus, the sinister politician in Pompeii.
"I'm not the guy who takes his shirt off," explains Sutherland. "I just thought it was time to get back into really good shape because I knew I was gonna be running, jumping, and all of that crap."
And if you want to get really technical, it's not like his alter ego had much to do besides work out. It's been four years since Jack Bauer went off the grid after killing Russian diplomats and plotting to assassinate Russian president Yuri Suvarov in the 2010 finale. Live Another Day, the 12-episode series bowing May 5 on Fox, finds Jack resurfacing in London just as the CIA has intercepted a death threat against visiting U.S. president James Heller (William Devane, who's earned a promotion after serving as secretary of defense in season 5). CIA operations head Steve Navarro (Benjamin Bratt) brings the fugitive into the agency to get some answers–hence Bauer's shirtless electrode-laden interrogation.
"I just met Kiefer today!" reveals Bratt during a break in filming. "To actually step on set and play not just with Kiefer Sutherland but the iconic Jack Bauer, who is the spy of spies, is a pretty surreal moment for me."