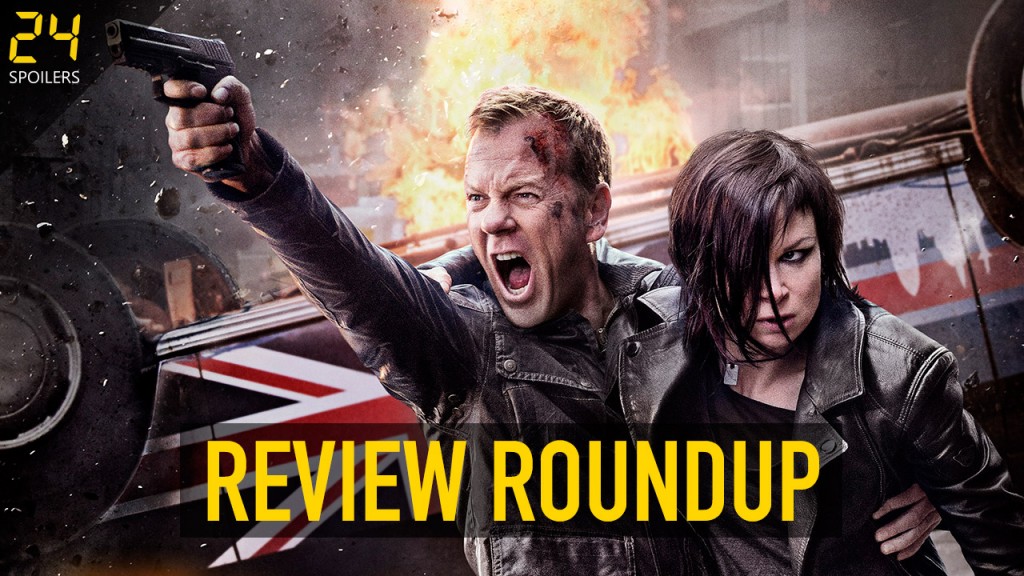 With 24: Live Another Day just a few days away, reviews are starting to pour in. We'll be compiling all of them here for your convenience. If you plan to read the full reviews, be aware that a few of them contain spoilers. So far the reviews have been largely positive with the most common complaint being that it feels like the old show.
---
Forbes: "Jack will return to television screens everywhere thanks to the limited-series event, 24: Live Another Day, and the best part? It's good, really good. In addition to an improved Bauer, the series also managed to breathe new life into all the characters that aren't Jack. From the now promoted James Heller to the latest no holds barred agent of the season, Kate Morgan, every supporting character in the series matters again."
TIME: "If you want a 24 very much like the show that went off the air in 2010, it will please you; if you've forgotten much about the show in the intervening four years, it might surprise you. Otherwise, 24 is very much 24, even if this one only adds up to 12."
NY Daily News (4/5 stars): "At its best, "24" has always had the soul of a Western. Now it's riding back into town and that's exactly what it delivers."
SFGate: "Because "24" was so far ahead of its time during its first go-round, the new incarnation doesn't feel at all dated."
RogerEbert.com: "Jack Bauer may have appeared on the pop culture scene as the man we needed to be a hero but he's transcended that to reach mythological proportions. I half-expect him to join the Marvel Universe."
Alex Strachan, Postmedia TV columnist "I can honestly say that, by heaven, they've pulled it off. It's smoother, slicker, less silly. They've obviously used the extra time well."
TV Tonight (4/5 stars) "Tate Donovan, as the man sandwiched between the President and Bauer's former flame, looks to be one of two strong additions – the other being Yvonne Strahovski as an agent chasing a deepening mystery without ever really knowing where it will lead. […] I'm encouraged by this strong start."
San Jose Mercury News: "The revived "24" is still instantly involving and packed with a dizzying rush of suspenseful crescendos. The new Jack, meanwhile, is the same as the old Jack, which is to say he flips the bird in the face of terror and squirms his way out of major messes like a gun-toting Houdini — all while managing to make a man purse look good."
Slant Magazine: "The result is a leaner, scrappier 24 that is both firmly within its comfort zone—the unstoppable Jack, unflinchingly facing interrogators and taking down three guards while handcuffed—and somehow outside it, with Jack and the other returning characters more readily showing the wear and tear of their profession."
The Detroit News (B+): ""24: Live Another Day" cuts right to the chase. Not that the chase isn't still dizzying, far-fetched and filled with calamity, but it's looking like the show is going to lose a lot of the flab that weighed it down in previous seasons."
Variety: "The opening two episodes are characteristically entertaining, and snap along pretty briskly (the first is in real time), but it's hard to escape a sense of creative malaise around all this. Essentially, the limited series became the consolation prize for a proposed movie that never came to fruition, while offering Fox — coming off a season where its ratings have experienced their own countdown — a highly promotable title heading into the upfronts and summer."
Entertainment Weekly (C+): "Despite the high-grade action, the premiere is more a showcase for everything that was bad about 24 than a reminder of everything that was good."
Las Vegas Weekly (3/5 stars): "For better or worse, the producers of the new season of 24 (subtitled Live Another Day) have delivered the exact same show that went off the air four years ago. […] For fans who stuck around for all eight original seasons, Live Another Day offers more of what they loved. For everyone else, there's no reason to start now."
Salem's Lot: "Having previewed the first two hours, I can assure you that this half-life 24 is well up to standard, and indeed, in this new truncated form, potentially well above."
Columbus Alive (2/4 stars): "While the first two episodes have strong action and the plot moves faster than it would in a 24-episode season, there's still not enough originality for me to get on board."
The Herald-Dispatch: "The casting here is incredible with a great mix of "24" veterans and familiar TV faces. But it's Sutherland and Rajskub who are the heart of "24: LAD as Jack struggles with the guilt from the hurt he caused his only true friend, Chloe and Chloe struggles with whether or not to help Jack after everything that's happened to her."
Uncle Barky (C+): "24 is still fast-paced for the most part, although a little slow off the mark in its first hour. And the 47-year-old Sutherland remains trim and limber as an aging Jack of few words, most of them downers."
Washington Square News: "Director Jon Cassar is fully aware that this issue's resolution should be delayed as long as possible. Along with screenwriters Robert Cochran and David Fury, Cassar slowly builds suspense, giving Bauer no dialogue until 31 minutes into the episode. In effect, the audience is constantly wondering about his motives and what other plans he is concocting while he is being interrogated."
Just Seen It (video review): "Kiefer Sutherland is reprising his role as Jack Bauer in the most perfect way ever. He fits right back into his shoes, the character is just so badass."
The Sun Herald: "It's been awhile – really too long – since Bauer has saved TV at least one day a week with his reluctant hero antics. Even if he's only back for half the time, the series is still twice as good as most of the action shows on network and cable television."
HitFix Firewall & Iceberg Podcast – The 24 discussion occurs from 9:25 – 27:10 in this podcast. A brief summary of comments: "It's a good start, now do it for ten more hours" said Daniel Fienberg. Sepinwall says that he's "mostly happy" to have 24 back and will try to write about it each week. The two praised John Boyega's performance, said Tate Donovan and Gbenga Akkinagbe's characters aren't likable, Chloe's new look was ridiculed, but "Jack Bauer saying Damn It still has some of the visceral pleasure that it once had."
Huffington Post: "Perhaps because of its London setting or maybe because it's just been too long without Jack Bauer, I had goosebumps, and it wasn't from the first five crazy minutes."
National Post: "And now it is back. 24: Live Another Day returns to a television landscape in which it no longer feels the least bit remarkable."
Wall Street Journal: "Jack will have his work cut out for him, and audiences will be as enthralled by "24" as they have ever been, if not more, and they'll have good reason."
TV Guide Magazine (8/10): "And all we can hope for are more moments such as the one in which Jack is outnumbered and outgunned and, after assessing the situation, remarks, "You probably think I'm at a disadvantage. I promise you I'm not." We never doubted it for a minute. Welcome back, Jack."
New York Post (4/4): "In no time, Jack is kicking major butt and reminding us why he is one of TV's greatest action stars. "24: Live Another Day" has the kind of heart-stopping suspense that makes it impossible to look away to tweet."
Washington Post: "In the long run, Jack's unyielding race to prevent disaster mostly just prevented viewers from getting attached to him on a human scale. In that very crucial regard, it's hard to welcome back a man you don't really know."
Associated Press: "Bottom line, there's comfort for us viewers with Jack Bauer back on the scene. It's pretty much guaranteed: On "Live Another Day" he'll have another bad day. But we'll all have a blast watching."
Toronto Sun: "Having seen the first two hours of 24: Live Another Day, I found myself glad to be worrying about Kiefer Sutherland's Jack Bauer again. The constant peril, of which Jack is both the victim and the instigator, seemed kind of fresh."
The Hollywood Reporter: "The action-packed but still mostly brainless thriller is back, and as long as the series has no pretension to greatness, it's a lot of fun."
IGN: "In a welcome return, 24 doesn't disappoint and kicks things off in style with an intense, fast-paced premiere."
Cleveland Plain-Dealer: "Although Jack looks considerably more world-weary and haggard in "24: Live Another Day," the need-for-speed storytelling style is as sharp as ever. Jack is back, all right, and with a purpose."
Buzzsugar: "I worried the event series wouldn't be able to live up to the previous eight seasons of nonstop, pulse-pounding action and drama. Well, like it or not, Jack (Kiefer Sutherland) is back, and guess what? He's still amazing."
Vulture: "Even when Jack is using his own handcuffs to strangle a man, there's a fastidious grace to his movements, and when Jack politely tells six gunmen who've got the drop on him that they shouldn't make the mistake of thinking he's outnumbered, you laugh, because you know Jack's not bragging or trying to psych them out. It's the gunfighter's version of compassion."
Collider: "For those who were lifelong fans of Jack Bauer and 24 up to the bitter end, 24: Live Another Day will sufficiently offer the ninth season they always wanted. However, if you're looking for a revived quality spark or unique spin on the 24 formula, Live Another Day is a disappointment."
Cinema Blend (4/5 stars): "24: Live Another Day gets off to an exciting start, introducing new characters, new threats and a few great twists in its first couple of hours."
Twitter Impressions
The first two hours of 24: Live Another Day do not disappoint, at all. This is the show in top form, best in a loooooooooooooooooooong time.

— Merrill Barr (@MerrillBarr) April 24, 2014
Id give the season premiere of "24" 4 out of 5 stars. There is a big reveal that I thought was edited badly & done wrong

— Gregory Staffa (@StaffaRoadTrip) April 19, 2014
1st 2 eps of #24LAD had the heart pounding as hoped, and was left leaning forward for more by the end. It was a weirdly physical experience.

— Robin Wiggs (@robin_wiggs) April 21, 2014
I will say this, #24LAD is as good as I hoped it would be.

— Patrick Munn (@patmunn) April 17, 2014
Just got an early screening of the 1st 2 hrs of @24fox Live Another Day – The action, intrigue, surprises and mysteries are better than ever

— Noel T. Manning, II (@noeltmanning) April 18, 2014
@michelstafford so far!

— Damian Holbrook (@TVGMDamian) April 17, 2014
fyi, #Arrow fans: @colinsalmon24 is badass in the new #24.

— Damian Holbrook (@TVGMDamian) April 17, 2014
---
Special thanks to everyone (especially Chlojack) who helped out in compiling these reviews. If you see any more reviews please post them in the comments below and we'll update post.