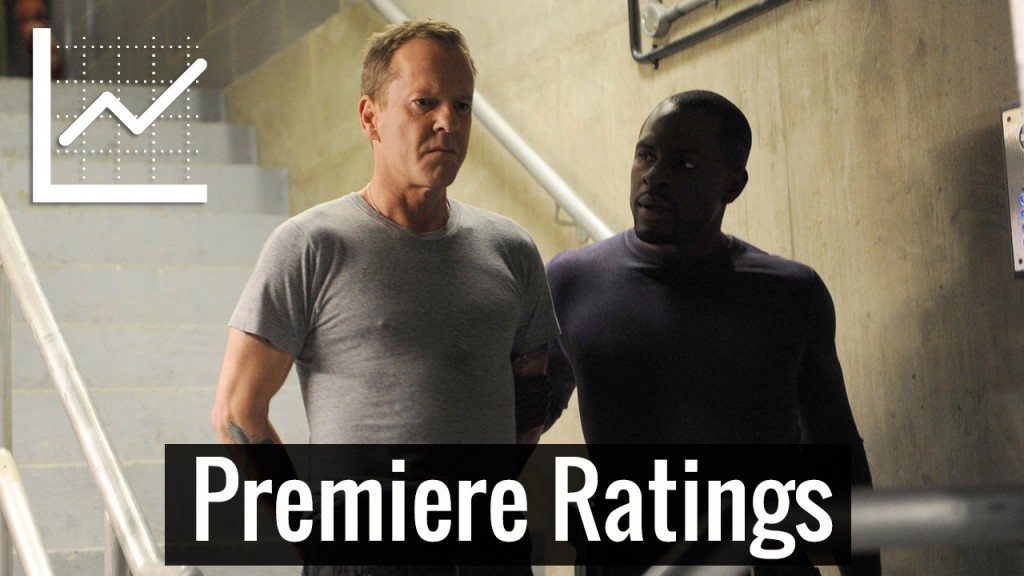 Here are the initial ratings for 24: Live Another Day, we'll be updating it with more analysis soon.
As expected, the return of "24" on Fox, themed "Live Another Day," was not as strong as its most recent season-opener in January 2010. "24," headlined by Kiefer Sutherland, scored a very respectable 5.8 rating/9 share in the household overnights from 8-10 p.m.

Comparably, that was 87 percent above Fox's week-ago combination of a repeat of "Bones" (2.8/ 4 on April 28) and the sophomore season-finale of "The Following" (3.4/ 5). And it resulted in diminished overnight results on competing ABC, CBS and NBC.

But versus the two-hour debut for its eighth season on Sunday, Jan. 17, 2010, "24" dropped by 23 percent. And compared to the 7.7/11 for its Monday return on Jan. 18, 2010, this was down by 25 percent. In other words, "24" was positive, but by no means a record.
Media Coverage
FOX's take
FOX employee Gaude Paez Morose tweeted out some statistics and appears to be happy with the ratings thus far.
Jack is Back!!! #24LiveAnotherDay premiered with a 2.5/8 among Adults 18-49 and 8 million viewers!

— Gaude Paez Morose (@GaudeP) May 6, 2014
With projected DVR lifts, last night's #24LiveAnotherDay could go up to between a 3.8 – 4.3 rating after 7 days.

— Gaude Paez Morose (@GaudeP) May 6, 2014
Fun fact: #24LiveAnotherDay not only dominated the night across all male demos, but it also tied as the top show with young adults 18-34.

— Gaude Paez Morose (@GaudeP) May 6, 2014
We just got updated (final) numbers for #24LiveAnotherDay… and last night's premiere rose to a 2.6 among Adults 18-49 and 8.1 mil viewers!

— Gaude Paez Morose (@GaudeP) May 6, 2014