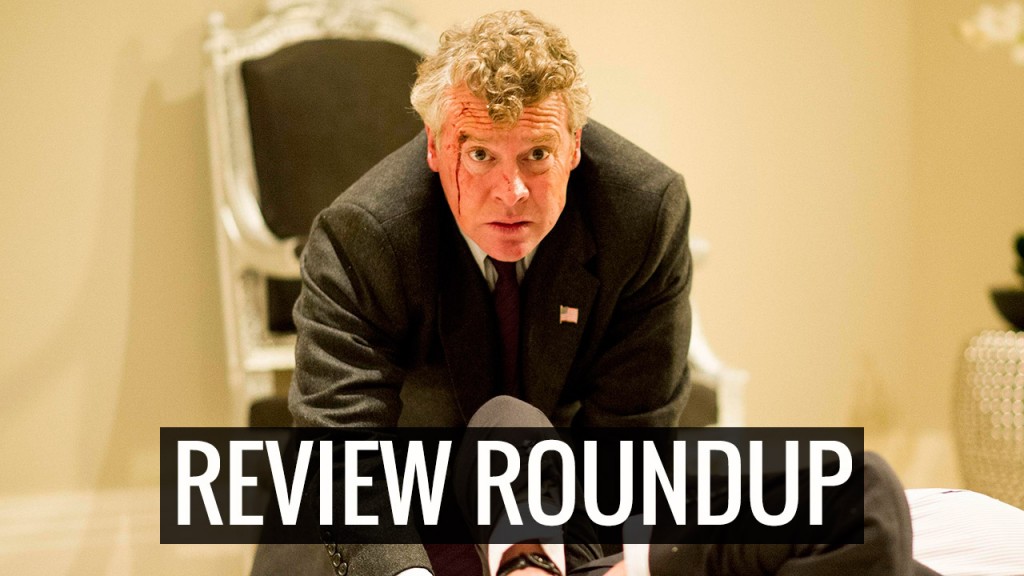 Here's a comprehensive collection of reviews and recaps for 24: Live Another Day Episode 11. We strive to collect as many reviews as possible here – both positive and negative opinions from a wide range of sources. This post will continue to be updated throughout the week as more reviews come in.
---
The A.V. Club (B+): "Really, though, the point is to set everything up for the finale next week, and to that end, the episode did its job. Things have moved faster than they ever have on 24, and while that sometimes means sacrificing complexity, it has made for a thrilling, hugely enjoyable ride."
IGN (8.6/10): "And it feels redundant, but it's still worth mentioning: the action on 24 is head and shoulders above the rest. The opening and closing gunfights were tight, fast and even though we know Jack's getting through it okay, they remain surprisingly suspenseful. These action sequences weren't the strongest of the season—far from it—but they weren't aiming for that, just for some exciting moments in the hour. As staged, these scenes would have been the highlight of most any other action/thriller show. Here it's just 24 stretching its legs one last time before the finale."
She Knows: "It's hard to believe that Jack and the rest of his friends were once fighting a terrorist as lowly as Margot just a few episodes ago. At the time I thought Margot was about as terrible of a person as one could get, but Cheng has made her actions a distant memory. Once he brought nuclear weapons into play, aiming drones at a hospital or two seemed like child's play."
TV.com: "To top it all off, Mark made a legitimate effort to help Jack and Kate take down his Russian contact Stolnavich, a move that led to a mostly well-paced little set piece at the end of the hour. I get it, Mark still sucks and we're not supposed to root for him. But the show and Tate Donovan deserve some credit for ensuring that we understood Mark. That's important."
Vulture (4/5): "Penultimate episodes of 24 are kind of hard to recap. It's always a game of show-and-tell. The creators of the show pack in a lot of action and high drama in the second-to-last hour, but they make sure to hold back just enough so that the final hour will be filled with twists, shocks, reversals, and a sense of the day coming to an end. Last night's episode was no exception to this pattern. While it wasn't exactly spinning its wheels, you did get the sense that there was a little bit of padding going on."
Screen Crush: "This remains the biggest, slickest entertainment on network television and it's the only show with the proper amount of raw nerve to feature its hero raiding the home of a foreign official and killing everything in his path. Its absurdity has never been more charming or lunkheaded. You can't teach an old dog new tricks, but '24′ is still doing that one trick better than anyone."
Paste Magazine (9.0/10): "This is the second-to-last episode in 24:Live Another Day, and the show did a great job of stepping up the pace to tie together a lot of loose ends. This episode ends on a suspenseful note for all."
TV Equals: "And so we've arrived at the point of the season where 24 asks you to put the blinders on a little bit. In a pretty goofy hour, 24: Live Another Day used its penultimate episode to jump all over the map as it attempted to tie up one loose end after another. All the players are now out in the open, and it seems only Jack can save the day once again. In many ways, we're right where I expected to be. However, there are plenty of poor decisions in the journey to this place."
Den of Geek (4/5): "Feel that? Those are fresh legs. Limber up and keep them moving because after 11 episodes, there is still more to be had from 24: Live Another Day. As we near the finish line, we can start to measure the successes of what FOX touted as a limited-event, half-day, explosive-extravaganza of a mini-series of a lifetime or something of that nature."
FOX News: "With only one hour left in this season of "24", fans who were hoping to see Jack Bauer ride off into the sunset might want to start preparing for some disappointment. Just about every character finds themselves in a precarious situation by episode's end, and with only sixty minutes to wrap things up, its hard to imagine many of them will find a happy ending, especially Jack."
TV Fanatic: "I loved the way Cheng said, Bauer when he saw Jack on that grainy video. It was as though he saw his worst enemy that just wouldn't die, and I guess that's probably close to the truth – but it's Cheng's own fault. He had Jack for a year and chose to torture him instead of kill him. Looks like that decision has come back to haunt him."
Nerd Core Movement: "Very solid penultimate episode of '24: Live Another Day' as the stakes are higher than ever as Jack has to balance his personal vendetta against Cheng versus the needs of the many to bring him back alive to face justice from the Chinese government and hopefully stop a world war that could leave millions dead and the rest of the planet living in a nuclear winter. There are only 60 more minutes to go of this special season of '24: Live Another Day' and next Monday can't get here soon enough."
Boston.com: "Jack and Morgan are in the midst of a "Heat"-like, bullet-flying firefight with the Russians sent to kill him, one that ends with a few well-placed shots to an even more conveniently-placed propane tank and some backup arriving in the nick of time. I was a big "A-Team" fan with a kid, and this was straight out of its cheesiness playbook. I love it when a plan comes together!"
BuddyTV: "While I was disappointed I missed the chance to write a recap on that great twist, I was excited that I would get to cover the next episode. But after this week's, I'm feeling pretty meh. I kind of don't like the direction the story takes in this episode. I'm now way less enthusiastic about the finale next week, even if I am intrigued to see how they'll cram 10+ hours into one episode of television."
Carter Matt (A-): "However, there was substantial movement forward in the plan to stop Cheng Zhi thanks to Kate just as much as Jack, and we genuinely feel like the show has got us primed perfectly for an excellent end of the season / series. There wasn't really that much that happened compared to past episodes, but the pacing and the performances were tremendous."
Screen Rant: "And so, in that sense, Cheng's appearance and involvement (however implausible) actually seems to work rather well, reopening old emotional wounds even though his tactics sometimes feel too familiar and beholden to what 24's structure is all about."
Zap2It: "With the Russians and Cheng working together, two of Jack's most fierce enemies over the years, it's all building to what is sure to be one of the most action-packed finales in "24" history. The question is who will and won't make it out alive when all is said and done."
The Escapist: "Though this wasn't that great of an episode, I have no clue how they're going to wrap this up next week in just one hour."
TV Ruckus: "Audrey's response surprises Jack and his face becomes etched with the special kind of Jack Bauer pain we've come to know. A man with such deep regret and self-loathing who tortures himself by staying away from those he loves, just because he loves them."
Pop-Break: "Do you hear that sound? No, that's not the sound of Arthur Fonzarelli leaping over not one shark swimming in an enclosed tank; it's actually The Fonz leaping through an F-5 class Sharknado. To quote ESPN Fantasy Sports guru Matthew Berry, 24: Live Another Day has gone a little "Woah, Crazy Crazy."
CNS News: "I've been watching 24 since its inception and I have no idea how all of this will get resolved. Next week is positively the most must-see 24 episode in the show's history."
Schmoes Know: "There are so many things going on in 24: Live Another Day and I don't know how I can comprehend this madness. It's at the point where so much has happened, it's starting to feel crammed and I fear for the last episode to leave us unsatisfied."
Hollywood Life: "Whoa. The penultimate episode of '24: Live Another Day' was a crazy one. Cheng's crazy plan started to unravel and Jack raced to take him down. Everyone's lives are at stake and it's going to make for one epic finale."
Digital Spy: "So far, 24: Live Another Day has delivered a consistently charming combination of explosive action, political intrigue, hard-bitten heroes and outlandish villains. Now it just has to stick the landing and provide a satisfying conclusion for not just Jack, but all its regular cast."
The Guardian: "It says something about the blind hysteria of last week's episode that this week's instalment – centred around two global superpowers charging unstoppably towards the brink of mutually assured nuclear destruction – actually felt quite low key. To be fair, had things continued to escalate as quickly as last week, Jack would have spent most of this episode fighting an army of winged monkeys with a flamethrower. Hopefully they're just saving up all the lunacy for next week's finale."
Other Recaps
Note: these are mostly just straight-up recaps with little or no critical analysis.
Video Reviews and Recaps
Post Show Recaps

AfterBuzz TV

Issues Program:

Podcasts