Here's the 24: Solitary "story extension" featuring the return of fan favorite character Tony Almeida. Based on information revealed during the video, this seems to take place more than two years after the 24: Live Another Day finale. We've written a transcript with photos below.
---
A prisoner in handcuffs and legcuffs is being walked down a hallway into a secure room. The prison guards handcuff him to the table. Also in the room is U.S. Attorney Vanessa Diaz and the prison administrator.
Guards: He's secure. Sit down.
The camera pans up to reveal the prisoner – it's Tony Almeida! He's got long hair, a beard, and scars above his eye and neck.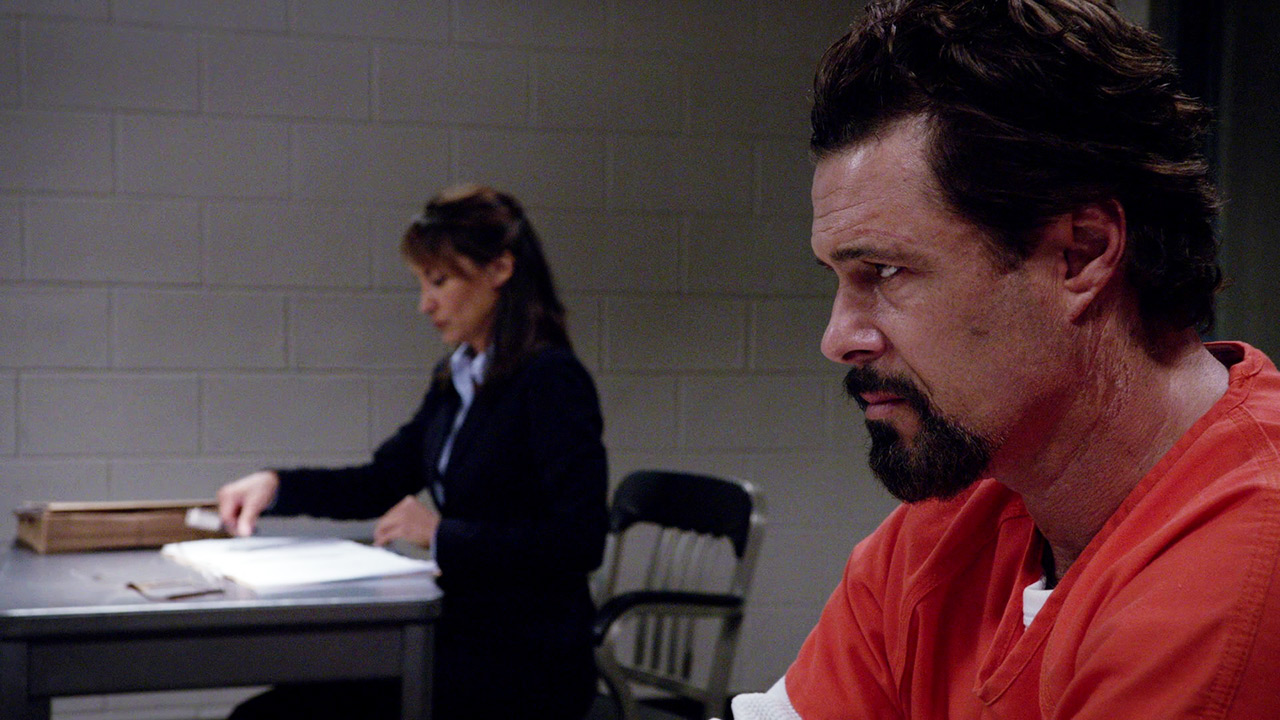 Prison Administrator: Let the record show, motion to transfer Anthony Almeida from supermax security segregated housing unit to general population. Ms. Diaz?
Vanessa Diaz: Eight years ago, Mr. Almeida was sentenced to life in solitary. D.O.J. opposes any reduction in security.
Prison Administrator: (Reading Tony's file) Conspiring with a terrorist group, hijacking an airliner, homicide, possession of weapons of mass destruction… Mr. Almeida, why should I even consider this?
Tony Almeida: (Stands up) Every day, gangs, Mexican cartels, Al-Qaeda, they're all plotting behind these walls. You could use an inside source, undercover in general population.
Prison Administrator: If you have information on criminal activities, you should alert the guards.
Tony Almeida: If you want actionable intel, you need to let me out of solitary.
Prison Administrator: Do you actually think prisoners would talk to you? A former CTU agent?
Tony Almeida: They know what I've done. They think I'm one of them now.
Vanessa Diaz: What he's done is kill federal agents. He can't be trusted.
Prison Administrator: Noted, Ms. Diaz. Why now, Mr. Almeida?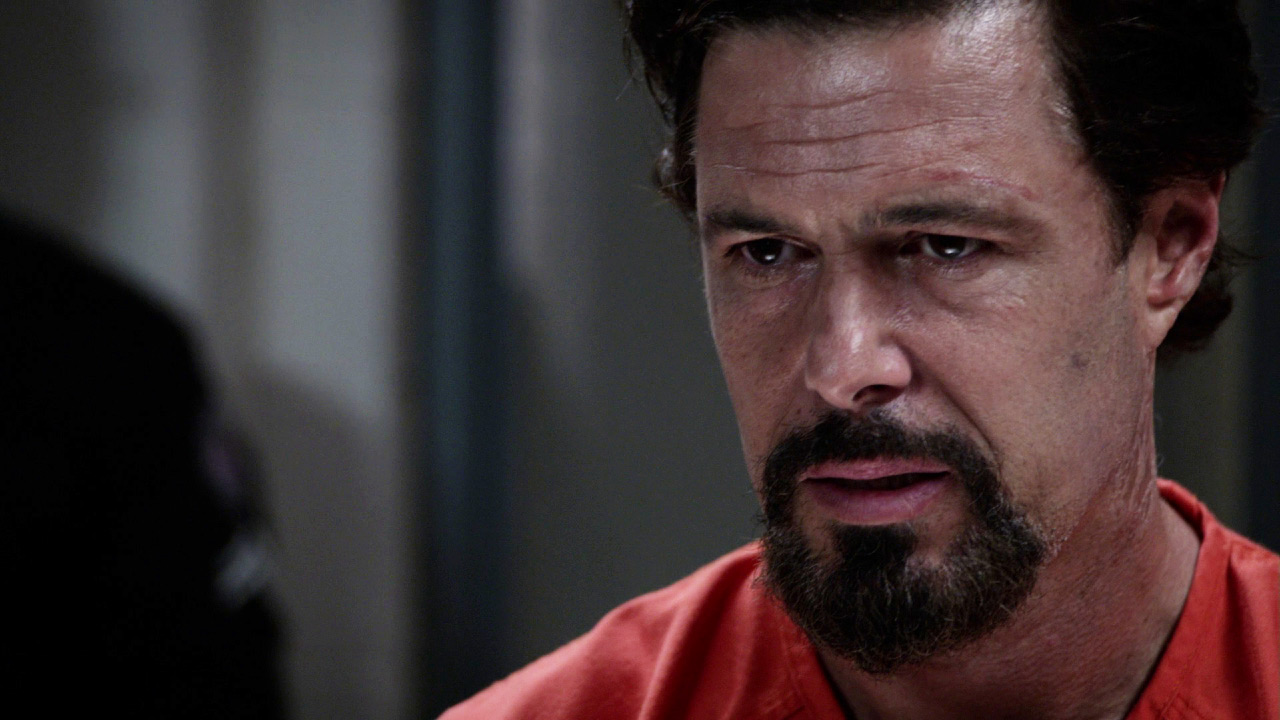 Tony Almeida: Sir, every night I wake up in a cold sweat. Reliving the moment my wife was killed in a car bomb blast. I hold her in my arms, her burnt face next to mine. She was everything to me. After her death my desire for revenge consumed me. My actions cost a lot of lives, I know that, I take responsibility for that. And I know now that Michelle never would've approved of the man that I became. She would've hated that person just as much as I hate that person now. I've accepted the fact that I'm going to die inside this prison. But if I could do this, if I could save even one life on the outside, then maybe I'd feel worthy of my wife's love again.
Vanessa Diaz: Sir, if I may. This file was sealed after Mr. Almeida's final court appeal two years ago, to protect an ongoing investigation. But I took the liberty of asking the NSA to declassify it. Note the transcript of a conversation between Mr. Almeida and an as yet unidentified man. I quote, "I wanna see that judge's wife and kids murdered in front of him and then see what he thinks. I'll do it myself, if I get out of here."
Prison Administrator: In light of these recent findings, the motion to reduce security is denied. Mr. Almeida, you are lucky to be in solitary.
Tony Almeida: Sir, you can't send me back there. You can't!
Prison Guards: Let's go, Almeida.
Vanessa Diaz: Thank you, sir.
(Tony headbutts a prison guard, rushes towards Vanessa Diaz, violently tackling her to the floor and strangling her) You bitch!
Prison Administrator: (screaming for help) Guards!
Prison Guards: Code three! I need help in B-18! Get him, let's get him!
(The guards tase Tony Almeida as he screams out in pain)
Vanessa Diaz: Get off of me!
Prison Guards: Get him on his feet. Come on. Open door B-18. Move, damn it! Move it Almeida! (Throws Tony into cell) Get in there. 13-E, close. Rot in hell.
Vanessa Diaz runs into a nearby bathroom. She looks in the mirror at the redness and swelling of her neck, in pain after being choked by Tony. Diaz takes out her cell phone and dials a mysterious person.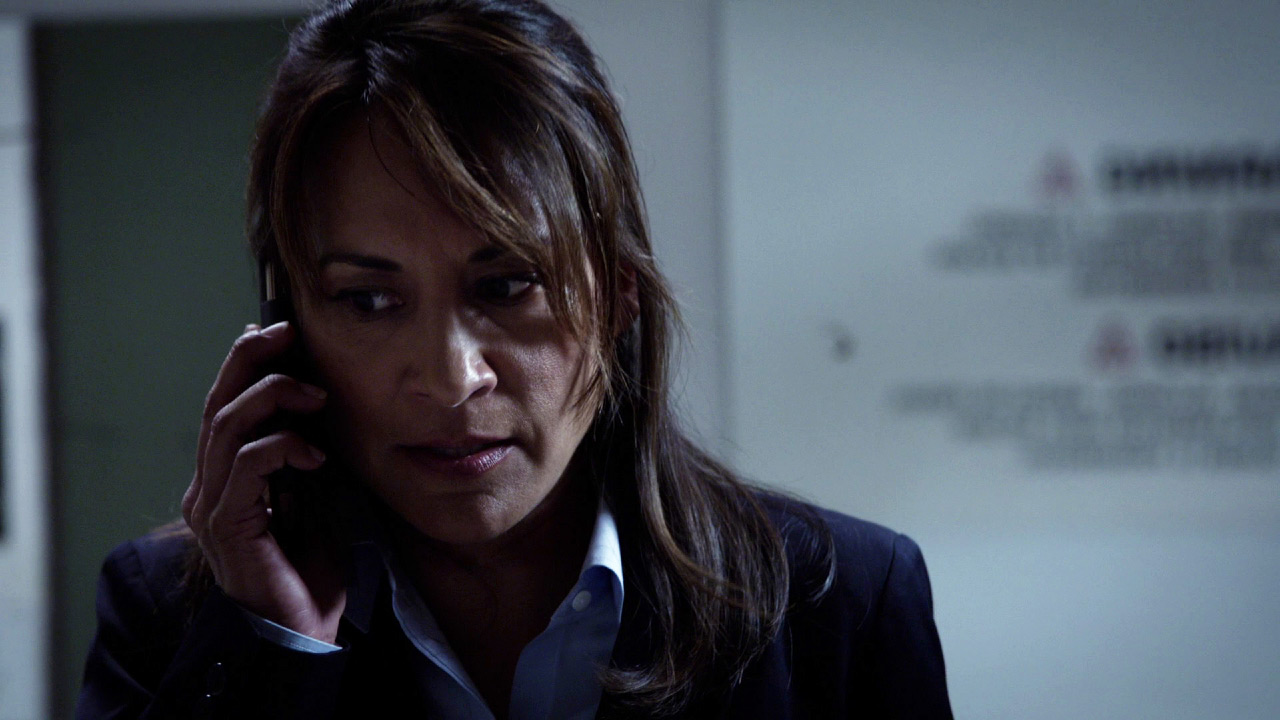 Vanessa Diaz: It's Diaz. Is this a secure line?
The Handler: It's secure. Go ahead.
Vanessa Diaz: Almeida nearly killed me for Christ's sake!
The Handler: He had to make it look good. Did it work?
Vanessa Diaz: Yes. Almeida has the plans.
Tony is inside his cell. He reaches under his orange prison jumpsuit and pulls out the glasses Vanessa Diaz was wearing just a few minutes ago. He secretly took them in the scuffle – it was all a ruse so that she could pass off the glasses. Tony puts the glasses on and presses a hidden button on the right side of the frame.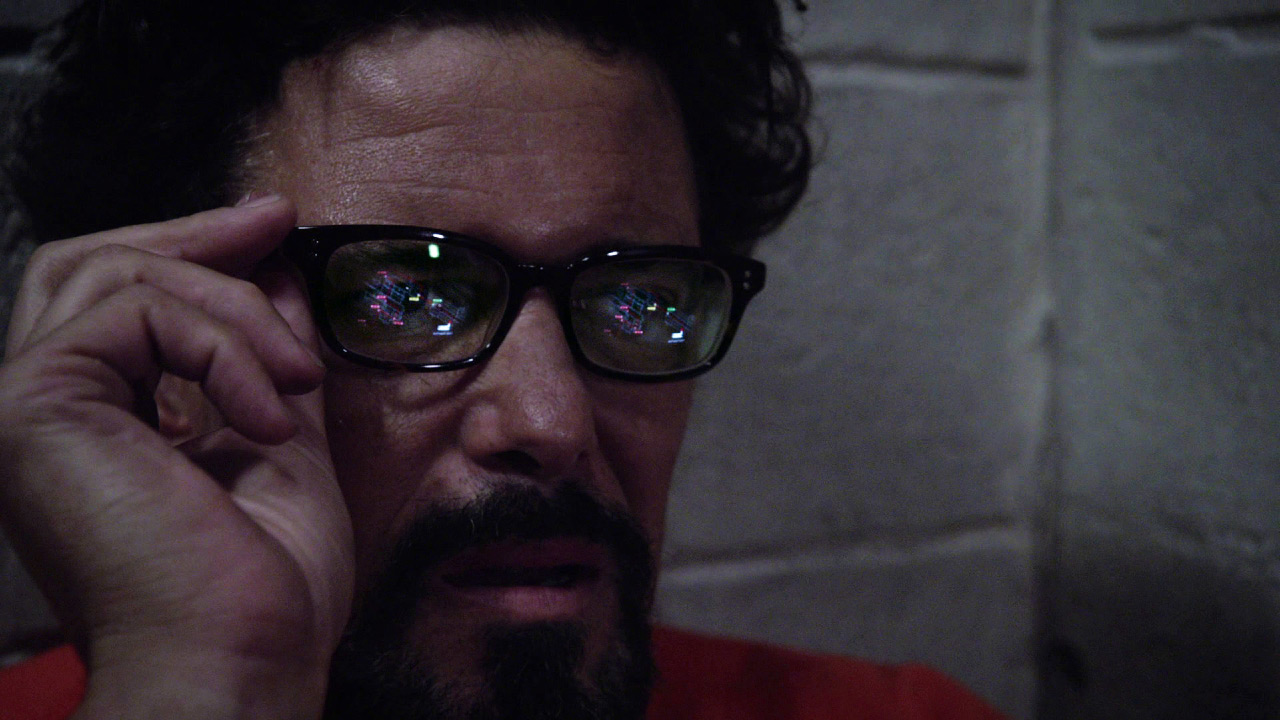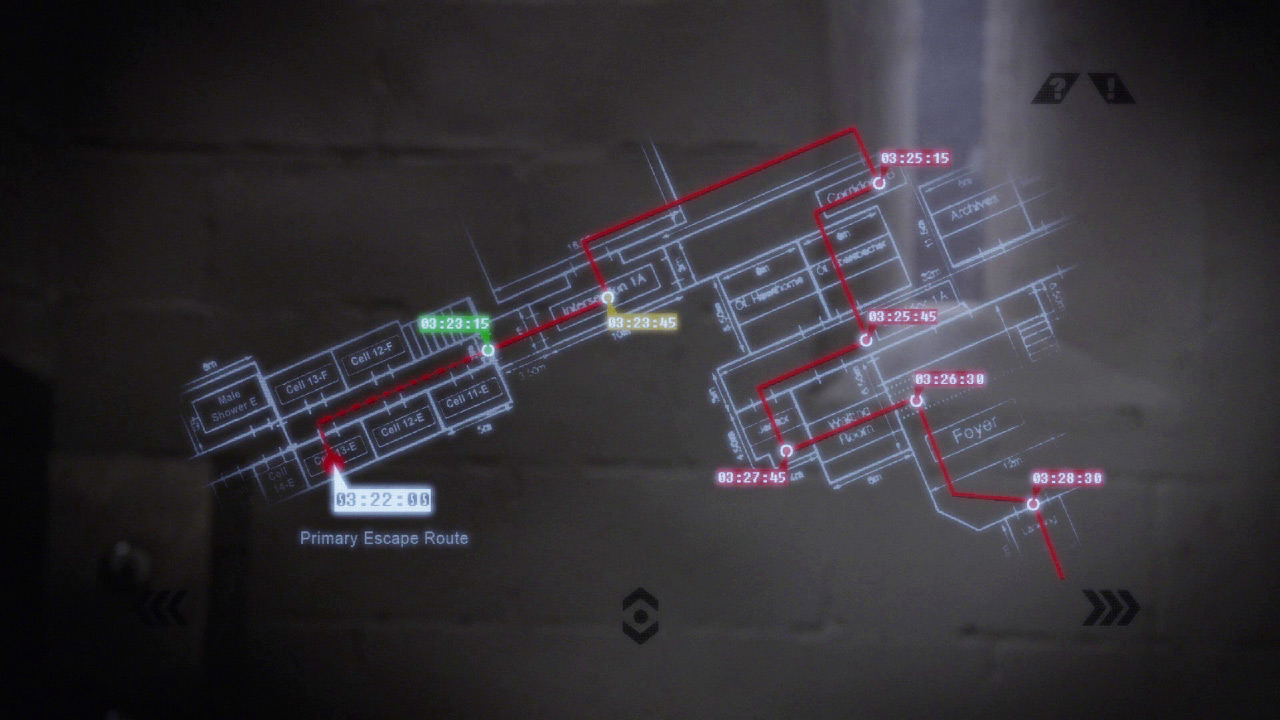 It's the schematics to the prison with a carefully planned escape route. Tony is in cell 13-E, exactly where he needs to be. He takes a breath and smirks, confident that everything is going according to plan. Soon he will be a free man again.
… beep … boop… beep … boop
Show End Credits
Directed by:
Jordan Goldman
Written by:
Adam DaSilva
Executive Producers:
Manny Coto
Evan Katz
Howard Gordon
Starring:
Carlos Bernard as Tony Almeida
Michelle Bonilla as Vanessa Diaz
Barry Livingston as Administrator
Patrick Robert Smith as Guard #1
Douglas Tait as Guard #2
Norman Howell as Guard #3
Katie Eschen as Vanessa stunt double
Xander Berkeley as Voice of The Handler
Produced by:
Jill Hoppenheim
Eli Loghavi
Director of Photography
Guy Skinner
Edited by
Scott Powell ACE
Unit Production Manager
Josh Siegel
First Assistant Director
Ken Collins
Second Assistant Director
Francesco Tignini
Casting by
Debi Manwiller, CSA
Music by
Sean Callery
Associate Producer
Ashley Contino
A Camera Operator / Steadicam: Randy Nolen
B Camera Operator: Tristan Whitman
1st Assistant Camera, A Camera: Tahlee Scarpitti
1st Assistant Camera, B Camera: Mark Santoni
2nd Assistant Camera, A Camera: Kevin Ivey
2nd Assistant Camera, B Camera: Tom Barrios
Digital Imaging Technician: Lyndel Crosley
Chief Lighting Technician: Iggy Scarpitti
Key Grip: John Brunold
Art Director: Carlos Osorio
Set Decorator: Lisa Son
Hair Department Head: Arrick Anderson
Make-up Departmnet Head: Dee Mansano
Prop Master: Sterling Rush
Production Supervisor: Ric Smith
Script Supervisor: Ari Halpern
Production Coordinator: Greg Cahill
Sound Mixer: Michael Hoffman
Supervising Costumer: Cristina Araujo
Post Production Supervisor: Janelle Reyes
Assistant Editor: Tim Brinker
Utility Sound Technician: Veronica Kahn
Sound Supervisor: Pembrooke Andrews
Music Editor: Jeff Charbonneau
Re-Recording Mixers:
Peter Nusbaum
Whitney Purple
Assistant CLT: Greg Etheridge
Set Lighting Technicians:
Alex Castillo
Armando Ballesteros
Michelle Sutor
Dwayne Redlin
Best Boy Grip: Paul Salmi
Dolly Grip: Specer Wilcox
Grips:
Brian Beverly
Kelly Flood
Joel Prescott
Fred Davis
Set Costumer: Nik Venet
Make-up Assistant: Monet Mansano
Graphic Artist: Miguel Rosero
Set Painters:
Larry Corralez
Thibault Pelletier
Frank Ramirez
Boom operator: Kevin Maloney
Leadman: Giancarlo Roncallo
Swing: Mike Maltz
Gang Boss: Matt Ballard
Drivers:
Jason Ballard
Giovanni Castro
Production Secretary: Jason Furrer
Production Assistants:
Alec Meacham
Jay Cannavo
Robert Parker Clemente
Kit Connors
Lisa Puerto
Production Attorney: Anita First, Esq.
Assistant to Producers: Ashley Derrington
Associate Casting Director: Russell Boast
Background Casting: Rich King
Post Production Assistant: Josh Doughty
Set Medic: Tobin Hale
Craft Service: Pilar Varela
Post Production Services by: Encore
Visual Effects by FuseFX
Special Thanks
Dan Rosenfelt & Ron Record
Riverfront Stages
Clairmont Camera
Illumination Dynamics
---
So that was shocking, but the craziest part is actually the voice of "The Handler" on the phone – it's none other than Xander Berkeley (aka George Mason). What the heck?! They made no attempt to alter his voice and even listed his name in the end credits. Did the writers go batshit insane and resurrect Mason from the dead or is this simply a neat little easter egg for us hardcore fans?
This short poses a lot of interesting questions. Who is Vanessa Diaz working for? Who is the mysterious handler on the other side of the phone? Why do they want to break Tony out of prison? For good purposes or bad? Was Tony legitimately sorry about the things he's done or was that all an act? Will Tony actually be successful in breaking out of prison? Is this setup for a tenth season?
What did you think of 24: Solitary?