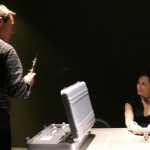 CHAPPELLE CONFRONTS JACK ABOUT HIS DRUG USE, CTU LEARNS OF SURPRISING FAMILY SITUATION INVOLVING CHASE, SHERRY CREATES A DANGEROUS LIE TO COVER HER TRACKS ON AN ALL-NEW "24" FEB. 17 ON FOX

After confronting Jack about his drug use, Chappelle considers pulling him from active duty. Meanwhile, Chase faces a secret he's been keeping from CTU; and Sherry creates a dangerous lie to cover her connection to Alan Milliken in the episode "Day 3: 2:00 AM – 3:00 AM" Tuesday, Feb. 17 (9:00-10:00 PM ET/PT) on FOX. (TWF-314) (TV-14; V)

Cast: Kiefer Sutherland as Jack Bauer, Dennis Haysbert as President David Palmer, Elisha Cuthbert as Kimberly Bauer, Reiko Aylesworth as Michelle Dessler, Carlos Bernard as Tony Almeida, James Badge Dale as Chase Edmunds.

Guest Cast: Sarah Clarke as Nina Myers, DB Woodside as Wayne Palmer, Mary Lynn Rajskub as Chloe, Zachary Quinto as Adam Kaufman, Greg Ellis as Michael Amador, Penny Johnson Jerald as Sherry Palmer, David Herman as Dalton Furrelle, Albert Hall as Alan Milliken, Gina Torres as Julia Milliken, Paul Schulze as Ryan Chappelle, Lothaire Bluteau as Marcus Alvers.